If you look at gun stuff online, you've probably seen them…advertisements for police trade-in guns from various online distributors like CDNN Investments, Summit Gunbroker, or Bud's Gun Shop. The temptation is strong: Here's the possibility of buying a good useable firearm with maybe some cosmetic blemishes for a considerable discount.
At the moment a number of police departments across the country are trading in .40 S&W sidearms as they transition to 9mm pistols and as a result those former police guns are turning up at wholesalers, local dealers, and gunshows. Selling for between $150-400 off the price of a brand new specimen it's very attractive. So should you buy one?
Maybe. To explain I need to tell you the tale of two friends who work for two different police departments.
The first is Greg Ellifritz. Greg is an incredibly intelligent, and incredibly dedicated guy. He's also had the benefit of working for a department with good quality leadership and a generally adequate budget. They trusted Greg enough to invest in his personal development and benefit tremendously from his input and hard work…including his service as the department's armorer. When he was the full-time training officer for his department, Greg took the time to carefully inspect each weapon his department issued, cleaned it thoroughly, and performed essential preventative maintenance like changing springs, and checking the fit and function of small parts like extractors, ejectors, disconnectors, safeties, etc. He did this with the utmost attention to detail because he knew that weapon's function could mean the difference between life and death for one of his officers.
The second is a friend a bit more local to me who signed on with his department in the mid 1990's. He was issued a Glock 22 as a sidearm along with 3 magazines. He retired in late 2013. Unfortunately there was no Greg in his department. His issued sidearm received absolutely no armorer's attention in his entire career there. Not a single spring was changed. He was still using the magazines he was issued when he joined, which were still equipped with the original springs and followers. The department had absolutely no weapons inspections. At each qualification session they experienced multiple stoppages and malfunctions, which isn't surprising as a number of officers never really cleaned or lubricated their weapons. He convinced his department to buy an ultrasonic cleaner which he used and managed to convince a few others to use. Some wouldn't even unload their weapon and drop it in the ultrasonic cleaner. On top of all of that, many of his department's weapons had severe manufacturing problems. His personal sidearm was so woefully inaccurate even from a prone I could barely keep shots on an 8.5×11″ piece of paper at 25 yards.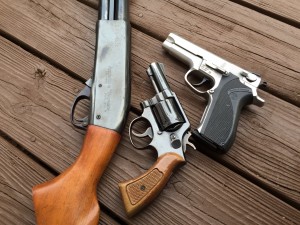 When you are looking at a generic "police trade-in" gun, you don't have a good way of knowing if the gun came from a department like Greg's where it was carefully maintained or another department where it suffered almost total neglect. You don't know if it was traded in because the department wanted to switch calibers for cost reasons, or if it's because they experienced severe problems with a batch of guns and had to get rid of them for something else.
…and yes, that really does happen.
The key to trade-in purchase happiness, then, is to do some homework and manage expectations. For the happiest outcome you have to know a bit about how the firearm you're thinking about was made, how it was most likely used while it was issued, and you have to be prepared to do some work on the gun to get it working.
Take the 870 Wingmaster pictured above as an example. The exterior of the gun shows wear from likely at least 2 decades of handling and storage, but I know that lots of police issue shotguns out there have not been fired very much in their service. I know the old Wingmasters are some of the best quality weapons Remington has ever made, and because it's an 870 you can do just about anything you can conceive of to it. Knowing all of this I was reasonably certain I could buy one and get a gun that looked pretty cool (I love the old school look of the gun) and that would work. Sure enough, it looks better than Summit Gun Broker advertised and it worked splendidly when I had the chance to take her out to the range.
The Walther PP at the top of the page is a former West German police sidearm. In the era when that PP was the primary sidearm for the German police, they spent most of their lives carried in a holster (a flap holster, I believe) without being fired very much. Of course, Germans being Germans, they did actually pay attention to keeping the guns clean and in good working order…including being careful with the finish. My PP shows a bit of obvious holster wear by the muzzle, but that's it. The rest of the gun looks as good as new. It runs beautifully with ball ammunition.
The S&W model 10 pictured is one of my absolute favorites. It is a former Australian issue police revolver that attracted my attention because of the low price (around $200 at the time…a steal) and the relatively rare 3″ barrel. K frames with a 3″ barrel might just be the best carry revolvers ever made. I looked around the web to see what some of the first buyers received and they described guns that had a bit of a rough finish, but were in excellent mechanical working order. Mine is no different. It clearly spent a lot of time in a holster being banged around and it suffered obvious neglect, but revolvers tend to be very tolerant of neglect. The bore is in excellent shape and the lockup is tight. It's also extremely accurate with 158 grain ammunition.
I tend to have a weakness for guns that fall into the "they don't make them like that anymore!" category, and often police trade-ins are splendid ways to collect those types of firearms inexpensively. If you have the same preferences and you're willing to do some tinkering to get a gun that needs a little love up to snuff for the occasional range visit, trade-ins are fantastic.
If, on the other hand, you are looking for a primary defensive option I would urge more caution. If you don't know how the gun was maintained, don't have any insight into the service life it experienced, and don't know if it came from a batch of guns with manufacturing problems it's dicey to bet your life on that gun. The same would apply if you are financially strapped. If you are buying a trade-in as a more economical defensive option be sure you have the scratch necessary to fix anything that needs fixing. If you ever intend to carry a trade-in for serious social purposes make sure you test it thoroughly before depending on it.
Another sweet spot for trade-ins would be for people who already have, say, an M&P and maybe want another one they can use for range duty or experimenting with customization. A cheaper "beater" gun similar to your primary blaster that you can go Dr. Frankenstein on without worry is often very useful. Especially if you tend to learn about working on guns primarily by making mistakes. Ask me how I know…
If you understand what you are buying and you have a clear view of your intended use and what it may take to get a neglected or abused specimen back up to par, police trade-in firearms can be a tremendous value. If you don't have a clear understanding of all of that and you're looking for a defensive implement with a lower price tag, you should definitely try to educate yourself so you know what you are getting into.