Despite the blog being down, I've still be working on testing the now excellent Rock Island Armory Ultra FS 9mm. It's currently at 1,824 rounds, and here's the fun part. Zero failures of any type. No failures to feed, no failures to extract, nothing. No parts breakages, and no issues with the build quality of the gun. It just keeps running and running. While the bulk of the ammo I've shot through it has been FMJ, it's also fed 200+ rounds of premium JHP, including Golden Sabers which have an ogive so wide you can serve a martini in there.
Right now, I'm focusing on training for USPSA again. It's been over a year since I shot a match of any type or any level; in fact the last major I shot was IDPA Nationals in 2014, where I finished 1st Master in SSR and 4th overall. I'm coming off revolvers finally, and upgrading my technology from the peak of 1800s firearms tech to the peak of early 1900s firearms tech with 1911s.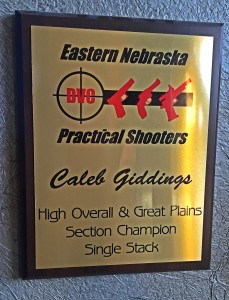 I had been hoping to shoot the Great Plains Sectional this year, but it has conflicts with a drill weekend. So that's going to be out. Up next on the hope list was Area 3, but…it looks like I'll be working that weekend too. But there's really nothing wrong with me taking a year and focusing on shooting club level matches, because of all the downtime I've had. I can take a year, work on rebuilding my skill, shoot some youtube match videos again, and focus on getting my match skill back up to where it needs to be in order to be competitive in major matches. Sure, I'd love to shoot SS Nationals again, and I'd love to get back to Area 3, and it'd be great to go win the GP Sectional in Single Stack, but if there's one thing I've learned in the last year it's that it is okay to focus on smaller goals.
So for this year it's club matches for me. My first match is going to be April 17th, and my big training goal will be to make Master in Single Stack this year. I've got a chance to do exactly that on May 15th, when Big Sioux is hosting a classifier match. That means the majority of my training is going to be shooting classifier style stages, which is relatively easy to do when you're training exclusively on an indoor range.
Season goals: Make USPSA Master in Single Stack, and win SS at every club match. Try to win high overall at club matches too, even though that's not a "real" scoring category.
Luckily, the Rock Island Armory is awesome. It's accurate, it's reliable, and it I'm going to ride it as far as I can to accomplish my goals.
Hey! You know how the blog went down for a week? Do you like the content? Want to help us make sure that never happens again? How about you kick us a couple bucks on Patreon then? The money goes straight back to supporting the blog and creating new content, so if you like Gun Nuts and want us to keep doing what we do, consider donating today. If every one of our daily readers donated a buck, I'd never need to run ads again.