Now that I have given a long-term review of the Lee Pro 1000 I felt it only fair to provide some mods and improvements I have made.  It is my hope that those who own this press, or are contemplating purchasing it, can get use these to get the most out of the press. I will list the mods in the same order as the cons were listed in my review article.
Case Lube – my first suggestion isn't a modification and is applicable to all reloading presses. Buy and use Hornady One-Shot spray case lube! You don't have to be super precise with the application. The following method works well for me.
Spread the brass out on an old cookie sheet.
Sparingly spray One Shot.
Return the brass to the loading bin.
Spray some One Shot into the resizing die. Every 1000-1500 rounds apply a little more to the die. Pro Tip: when spraying One Shot into the die, place a rag below the die to catch the grime that will run out.
Lube the Press – my second improvement is to lube the press. I use oil on the ram and the hex bar that controls the indexing. I do not recommend grease; I tried it and there was no improvement over oil and it made a mess.  My press is currently lubed with Valvoline 5W-20 from my last oil change, I think…
Just put a little on your finger and wipe the surfaces.  I have not found it necessary to lube the handle mechanism as there is enough play to ensure ease of function.
Case Feeder – Now we'll get into the meat and potatoes of improvements and I'll make the first mod  simple – remove the case feeder, and Z bar. Yes the cyclic rate will be lower, but I have seen a consistent 50% improvement in rounds per hour. This is because you are no longer fighting the case feeder. This also allows one to briefly inspect each case prior to placing it into the machine and catch the damn 380 ACP brass or those with crimped primer pockets.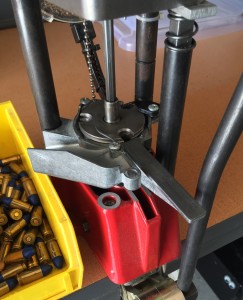 Case Feeder Removed
Primer Feed – There are two worthwhile mods you can make to improve the primer feed. The first is to ensure the two piece chute retains its shape. I chose to do so with zip ties as seen in the photo below.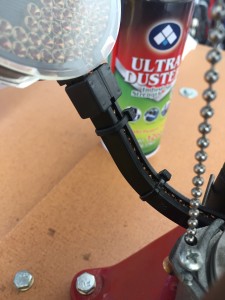 Note the Zip Ties
The second improvement is to put a zip tie on the upper primer feeder "activator". The primer feed mechanism uses a rod that comes out the side and "kicks" off of two groves as a means of ensuring primer flow. It is a Rube Goldberg setup that works better with the zip tie as shown below.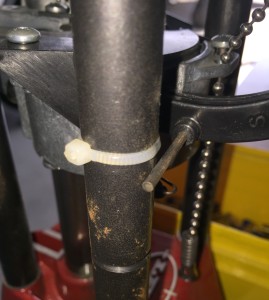 Ugly, Rube Goldberg and Effective!
To keep the primer feed from jamming up due to errant powder see the shell plate stop/locator mod below. Oh, as I noted in the first article, a can of aerosol duster for keyboards is your friend here!
Shell Plate Stop/Locator – There is not much we can do to correct the spring-loaded detent without major redesign. I tried to trim the spring and relieve the tension but that led to inaccurate shell plate indexing.
The trick is simple. Place your finger over the powder charged round as the shell plate rotates. This is best seen in the video below. It is easier to do once the case feeder is out-of-the-way.
Powder Measure – I'll be honest, I don't have a good answer here. I know Lee has introduced a new powder measure called the Lee Auto Drum but I have been hesitant to invest in it since my goal is to upgrade in the next few months.
Triangle Tactical does a review of the powder measure here for anyone interested.
Case Ejector – This wasn't mentioned in my first article but it is a simple and effective mod. Basically it involves bending the case ejector rod similar to that shown below. The rod bends like a coat hanger so have no fear and bend away.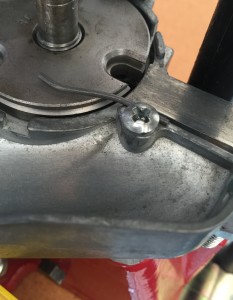 Tweakin' (wait, what?)
Below is a not very good quality video of me loading about 10 rounds on my press. At this rate I can load 300-350 an hour. This puts the loading in the ballpark with a Dillon Square Deal B. The press now produces decent ammo that is accurate enough for action shooting, defensive training and plinking. It is not going to bullseye accurate, but frankly if you are shooting bullseye you are probably loading on a single stage so you can control every aspect of the process.
The Lee Pro 1000 is an affordable press that can be made to run decent and can easily provide enough ammunition to shoot 1200-1500 rounds a month. As it sits I have about a 5% rejection rate when I case gauge the ammo. That doesn't mean the ammo won't fire or function, it just means it MAY not feed properly.  I relegate those rounds to training only.
Even with the mods the single biggest drawback remaining is the fact the press uses three dies instead of four. Presses that run four dies can use a Factory Crimp Die in the 4th stage to ensure case uniformity. In my experience, a Factory Crimp Die would drop the rejection rate to practically nothing.
In the end it is all about what you can afford and what you want to do. If you can afford a better press, I would suggest you do so. If you shoot more than 1500 rounds a month, I would look elsewhere. If you want to shoot multiple calibers each month, I would look elsewhere. If you are starting out and limited on funds but want to move up from a single stage this might be the press for you, if you are willing to tinker with it and learn its idiosyncrasies.
As for me? I shoot a Tanfoglio which are known for tight chambers; that dictates the need for a four stage press and a Factory Crimp Die.  I plan on moving up (to the East Side?) sometime this year.