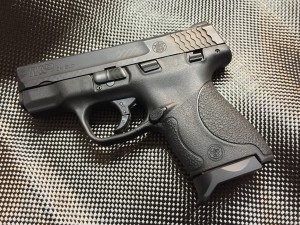 The Smith and Wesson Shield.  By all accounts it is a home run and one of the best guns you can buy in that size range.  In my household we have two of them; but in spite of my love for the gun, I was less than impressed with the 7 round magazine's base pad.  I really dislike wrapping my pinky finger back under the gun; I briefly entertained the thought of holding that finger straight out, but I didn't want to look like a Duchess when I fired the gun.  Ultimately it became a background issue since I seldom carried with the 7 round mag inserted.
I will stop right here and quell the calls for the Pearce Grip Extension.  I had a Pearce Mag Extension. ONCE!  It was a +2 on a Glock 17 mag and it failed with the gun in the holster, barfing the contents onto the ground behind me.  Luckily I was just burning powder at a square range and not at a competition, or worse, in a self-defense situation.  Since then, Pearce anything is a no-go for me.
As I tell me kids, "you get what you get, and you don't throw a fit", so I just dealt with the factory base pad and got on with life; then I saw the NDZ Performance Extension.  It had a location for my pinky and it was solid billet aluminum goodness so I immediately bought one.  Now having carried and shot the gun with it; I thought I would share my experiences, both good and bad.
First, this thing is built like a tank!  As I mentioned before it is machined from a billet of aluminum and even includes reliefs to help with mag extraction which work rather well, considering the size restrictions they had to work around.  It has a rather nice finish and the overall quality was superb.  There was only one thing that bothered me.
The rear of the base pad isn't machined to match the contour of the grip.  That lack of contour causes a protrusion that digs into your strong hand, which is only exacerbated by recoil and becomes rather annoying after 100 rounds.  Of course this base pad was designed (and purchased) for carry, so this isn't as much of a serious issue as an area for product improvement. I am seriously considering performing surgery to mine once I determine the best (read: cheapest) way to refinish it.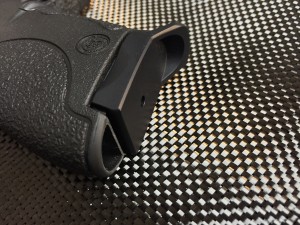 Here you can see the offending protrusion
In all fairness NDZ Performance makes a model with an extended rear portion that might mitigate this issue, but I haven't tried it and I can't find the will to purchase it, at least not until I murder the one I own.
If you are in the market for a mag extension for your Shield's 7 round magazine, you should give the NDZ Performance Extension a look.