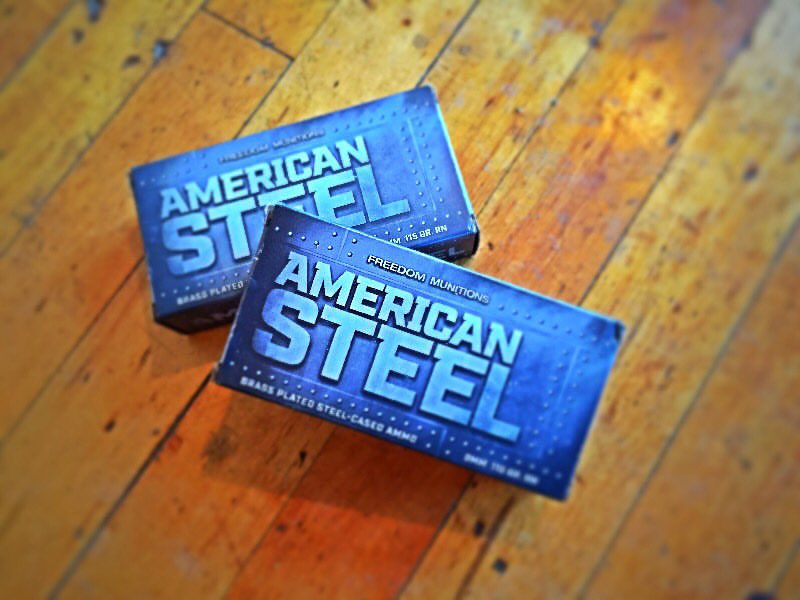 New product today from the awesome bros at Freedom Munitions: American Steel. Made in the USA, steel-cased brass coated 9mm ammo. I'll let their product description say the rest:
Unlike foreign made and imported steel cased ammunition, American Steel is made from the highest quality brass plated steel cases combined with dependable primers and powder. The American Steel line is not only accurate and reliable ammunition but also offered at a more economical price point than traditional brass cased ammunition; setting a new standard for range ammunition.

Featuring a copper plated, lead projectile from X-Treme Bullets, American Steel is loaded to the same performance standards and with the same powder and primers as Freedom Munitions traditional line of new and remanufactured ammunition.
Ammo reviews are tricky, especially for ammo like this. The intended purpose is pretty clear: provide quality training/practice ammo for the budget conscious, with a level of quality you'd expect from more expensive ammo. Price point is where you'd want it to be, just north of 10 bucks for a box of 50, and if you buy in bulk you can get that price down to under $10/50. I remember when Wolf 9mm was $9.99 a box, so I'm all about that price point.
How does it shoot? Just fine. We ran this through one of the office test M&Ps. Accuracy: just fine, it shot about a 4 inch group at 25 yards with a 4 inch red dot equipped M&P. It feels like it's loaded light compared to Federal American Eagle, but other shooters with chronos have said it's not. It's pretty much exactly what I'd want from my practice ammo: soft shooting, accurate, and reliable. It also throws a shower of sparks out the front of the gun sometimes, which just means you have to yell FREEDOM while you're shooting.
Lastly, there's one other thing I love about this round. Because the cases are steel, they can't be reloaded. But they're brass coated, so they look like regular old reloadable cases. One of my hobbies because I don't reload is trolling people who do…and this is the perfect round for it. "Oh, I don't want those empty cases, you can have them." Mean? Sure. Funny? Hell yes.
Buy some!