Here's something we've worked on in the past, but never spent a significant amount of pixels on. However, with the addition of USPSA's Production Optics division there's finally a place where you can take your slide mounted red dot pistol and pressure test your skills. While I think the PO division rules are a little wonky, it's still better than nothing.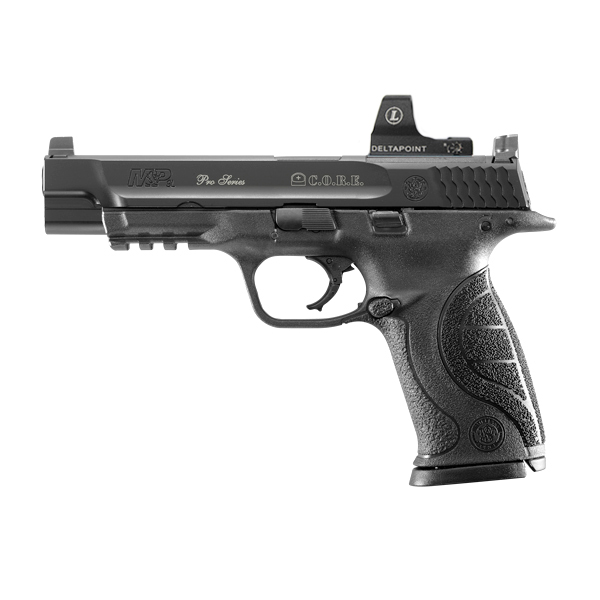 I've been beating the slide mounted red dot drum for a while, and spent a decent amount of time and effort campaigning for IDPA to have a Carry Optics division created. That unfortunately failed, as IDPA choice to add the Glock 19 division CCP division instead. Then in a curious development, USPSA went ahead and approved Production Optics. That was also odd, because what, 2 years ago IPSC killed Modified, which would have been a great place for these guns to play, but that's a different post for a different time.
But if we want to do this red dot thing right, we need some test platforms. Here's what we currently have in the stable:
M&P9L Pro CORE – 5 inch M&P equipped with a Leupold Deltapoint
M&P9 with thumb safety – currently the gun I'm carrying, equipped with an RMR02
Lone Wolf TimberWolf 9mm with ALG 6 Second Mount – This gun does not have a slide mounted optic, it's set up for an Aimpoint Micro or similar optics, more on why we're rolling this later.
Coming soon: Timberwolf Compact with RM06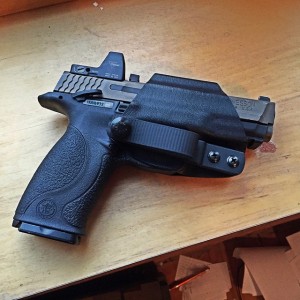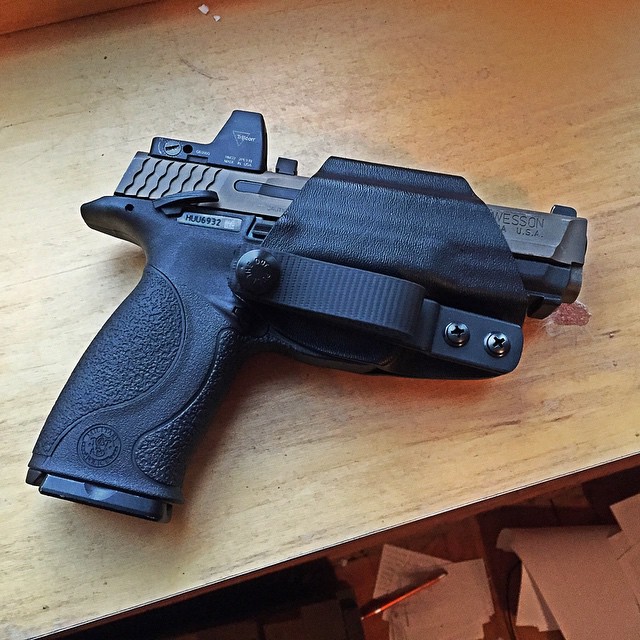 Before Production Optics came around, the only place where you could really compete with these guns was in Open division, where you'd get trashed by race guns with fixed optics. The reciprocating dot isn't competitive with a fixed dot, it just isn't. But now, if you're willing to stay within the limitations of the division, you can compete with your gun heads up. And lots of companies are now offering pre-cut guns for dots. Glock and Smith & Wesson both have factory guns set up for a slide mounted optic, and at NRAAM this year Kahr got into the game as well. There are also loads of shops doing slide cuts now as well. There's never been a better time to play with red dot equipped carry guns, and it's a subject I'm personally fascinated with.
What are the advantages of a red dot equipped pistol? While they are slower for me in rapid fire, it's also easier to be accurate out of the gate with them, and it's much easier for new shooters to learn to shoot with two eyes open with a dot equipped gun. There are drawbacks, of course. Batteries, and the potential for your optic to lose zero from getting battered around at 1 billion Gs when the slide flies around from regular shooting. However, because the trend of dot mounted pistols has been growing, manufacturers are taking that kind of abuse into account when they build their dots.
Of course the real reason I want to run red dot guns? I think they're cool. Yes, there is a lot of good data we can get from this project, and I'm glad that I finally have the time and resources to do it right, but ultimately? I'm doing it because if I learned one thing from taking 8 months off, it's that there's no time for shooting projects that don't interest me. Red dot equipped pistols are interesting.