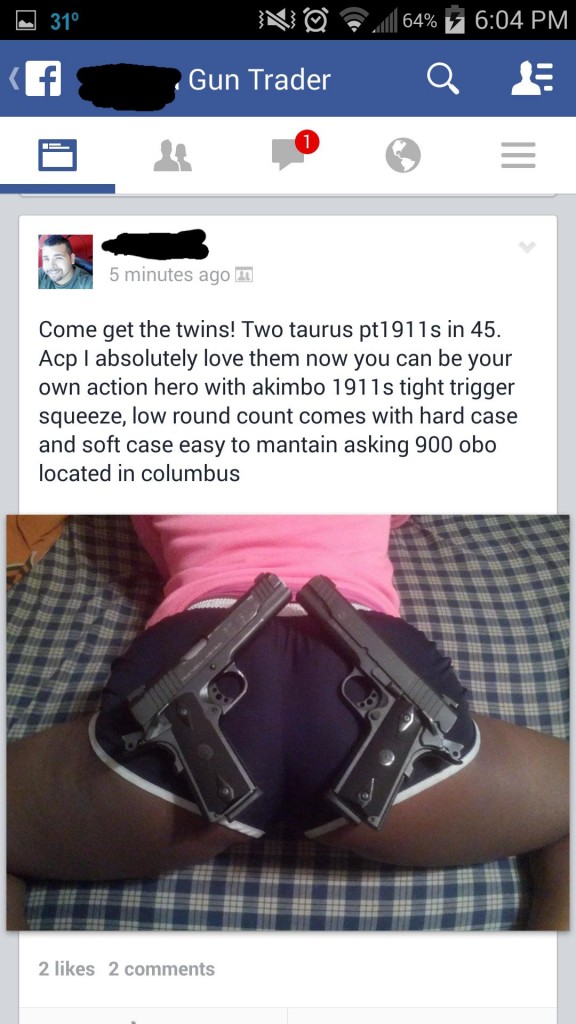 This is why we can't have nice things, gun people. I don't even know where to start with this one, because everything about this for sale posting is a f***ing garbage fire of awful. Let's start with the photo itself; because I mean come on. Which part of the brain is the one that generates the thought process responsible for a photo like this?
I mean can you imagine? "Hey, I've got a great idea on how to sell my POS Taurus 1911s, I'll have my girlfriend lay face-down-ass-up with her legs spread like a $5 whore and toss these ugly guns on top of her big booty. That will surely tell people I am a serious seller with a good bargain!"
Then of course there's the structure of the for sale ad itself. When it got to "your own action hero" and "akimbo" I knew that this guy was a truly serious shooter. "Yes," I thought, "this is a man whose custom Taurus 1911s I must have." Because you know that his kitchen table action job is on the same par as having a gun built by Hilton Yam, right? This is someone who knows his stuff.
Lastly, there are the guns themselves. I probably don't need to say this, but a Taurus 1911 by itself is automatically a ball of suck and fail. You know how we like to say "two is one and one is none?" With a Taurus 1911, two isn't one, it's just double the garbage. It's like finding a rotting bag of meat in your fridge and deciding that the best solution is to get ANOTHER bag of rotting meat so you can have two of the same thing.
So, to the guy who posted this: you're a terrible person. You're terrible because you objectify women, because you're an idiot, and because seriously? Akimbo Taurus 1911s? Go to your room.