Looking for more on the GLOCK 43? Check out my original review of the pistol in GunUp the Magazine.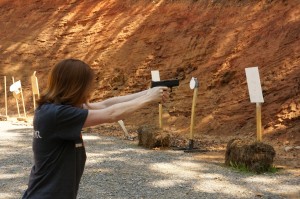 I strongly dislike the stock sights that come on GLOCK pistols. Fortunately, there are tons of options out there and, well, this is my option of choice: Sevigny Performance. Designed by this guy you may have heard of: Dave Sevigny. I like to think he knows what he's doing with this whole gun/sights thing.
They've released their sights for the GLOCK 43, and it's a fun opportunity for me to diagnose what I like so much about them. The first thing to realize is that Sevigny Peformance has a line of sights, so there are different options for competition, carry, etc. For the GLOCK 42 and 43, they've created a set of tritium night sights. It's a two-dot system and it's glowy.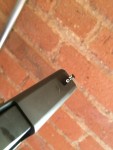 How accurate are they? Well, check out these three shots I pulled and the four I didn't ("That was at 7 yards? Don't you have Bianchi Cup next week?" Yes, yes, you'll find me in a ball under that little table by the Practical at the practice range crying.):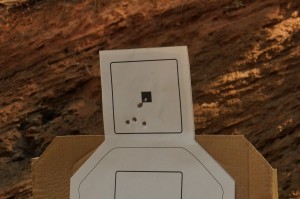 So… You can see the sights at night, I love the two-dot system for carry because it's fast, they're accurate, and designed by someone who knows what he's doing. Big fan. They can stay.
Side note: I also have Sevigny Peformance sights on my competition FNS and one of my M&Ps.