On Friday, Caleb had scheduled a post regarding the press check. He simply posed a question, and in true bloggy nature all of you answered with varying degrees of opinions and several insults. As you are all now stuck with me as primary content creator on Gun Nuts while Caleb is on a leave of absence for a couple months (a vast upgrade, I agree) I figured I would throw my opinion in with the bunch.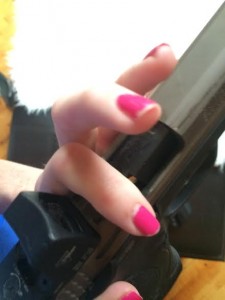 Personally, if I'm picking up an unholstered gun, no matter its state or what it's been doing, I press check it. Now, having said that, I haven't looked inside the M&P that lives by my bed in like a week because, well, it's been in a holster and it's not like anyone's been around to unload the thing. It hasn't been touched since that night there was a screaming woman across the street (I've been trying to turn that into a blog post, but turning "I locked the doors and grabbed my gun and by the time I was at the window dialing the cops they were already there" into 300 words is more difficult than I previously imagined).
Press checks are an important part of a safety routine when you're handling any firearm. On the same stroke, the holster is a lot safer place for a loaded gun than your hands. Which is why my M&P, for example, stays securely in its holster unless I know it's been handled (so yes, the night with the screaming lady across the street it got a press check). My carry gun? Checked every morning before I holster it, because it's being handled. It's a pretty simple gut reaction for me.
So that's where I draw the line between "paranoid about bullet gremlins" and "safety is the most important thing" (safety is the most important thing).