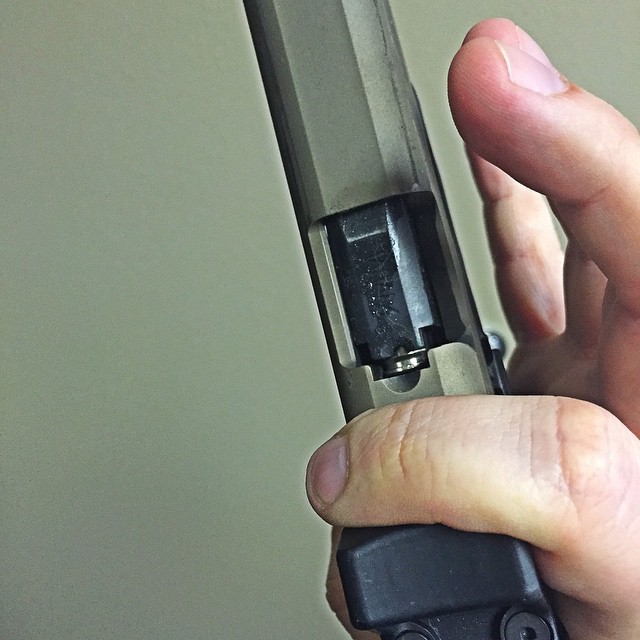 Ah, the press check. The way truly paranoid people make sure the bullet gremlins haven't magically removed the round from the chamber of your carry gun. Some people will say that it's an unnecessary measure that can cause bullet setback, and other people say it should be an essential part of your daily routine. So bro, do you even press check?
Here's the logic behind the press check. When I get home, I take my gun off. I don't unload it, I just leave it in the holster and that rig goes either a safe or on my nightstand, depending on the gun. Either way, still loaded. But when I put it on in the morning, if I'm carrying a semi-auto, I pop the mag out, make sure it's still loaded, then press check the gun to make sure there's still a round in the chamber.
I like to think of guns that have been out of my personal control as Schrodinger's Gun, in the sense that because it's outside of my control, I don't know if it's loaded or unloaded until I open the box and the cat is dead…wait I mean take control of the gun myself. It's the same reason why if someone hands me a gun, the first thing I do is the same – drop the magazine and check the chamber. To my mind, it's just building positive gun handling habits. When I check a carry gun, I want it to be loaded, so I'm verifying that it's in the correct state. Same if I'm checking a gun a client hands me at a photo shoot – I want this to be unloaded, and so I'm verifying its state as well. In either case, if I find the gun is in an undesirable condition, I can rectify it pretty easily.
Okay guys, so what do you think. Press check, yes or no?