The second block of instruction I attended at the 2015 Tactical Conference was on weapon retention and disarms as taught by Paul Sharp of Sharp Defense. As a police officer, Paul has found himself in a scrape or two with bad men and has had to defend against weapon snatch attempts. Police departments these days usually mandate some sort of security holster but at least in my experience people often misunderstand the point of such a holster. It's not a hip-carried bank vault that prevents unauthorized access. A good security holster (and there are certainly bad ones out there) buys the officer time. Hopefully enough time to do something significant and useful in their own defense.
This week a weapon grab made national headlines in Los Angeles as all the hash-tagging "social justice" numbskulls got up in arms about video of the LAPD shooting a "homeless" man. This despite the fact that it was pretty darn clear from the video that the "homeless man" (who, in reality, was a fugitive wanted for violent crime) tried to snatch an officer's weapon.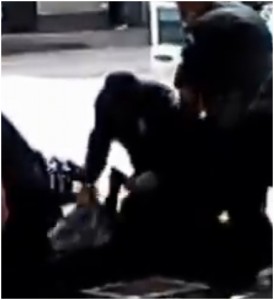 In this case thankfully the officer had other officers on scene backing him up and they were able to protect him. Unfortunately that's not always going to be the case for a police officer…or for a private citizen. A lot of folks openly carry a firearm these days but it's rare that I encounter someone who has undergone any sort of training in how to defend their firearm from a grab attempt. Worse, a number of open carriers I've met hold the silly idea that openly carrying a handgun will somehow magically prevent any weapon grab attempt like a gris-gris wards off bullets or evil spirits. That's just not the case. Remember that George Zimmerman, a guy carrying concealed, found himself in a fight for his pistol after he'd been blindsided by his assailant.
Paul's presentation at the Conference was aimed at giving folks who don't have his years of martial arts or policing experience some effective techniques for preventing a weapon snatch…and, alternately, for successfully pulling one off.
When you look at how criminal assaults like armed robbery and the like go down, you see a pattern: Bad guy likes to get close, pull out a weapon, and invade your personal space. Having some effective techniques to deal with that kind of situation is a much better alternative to just hoping you don't get shot.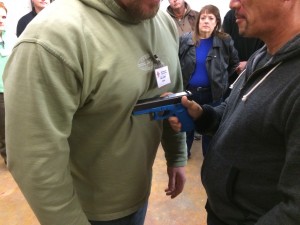 Paul mentioned the concept of "tool fixation" as both a danger and an opportunity. To explain it simply, if you're pointing a pistol at me at close range and I suddenly try to grab that pistol (after averting the muzzle away from my anatomy) then odds are you'll be pretty darn focused on getting your gun back…even if, in doing so, you open yourself up to other avenues of attack or miss opportunities to attack me. It would be bad for you, the police officer or law abiding good guy, to be so fixated on your handgun that you gave the bad guy opportunities to do significant damage while you're worried about your pistol.
On the other hand, the bad guy is probably going to be very tool fixated which can give you an opportunity to successfully defend yourself even in an extremely close range muzzle-in-your-chest situation.
Here again the concept of time is important. If you spend 5 seconds in a tug of war over the gun odds are that the other guy is going to figure out he needs to try something else. It's much better to be working on that something else while he's still thinking "Holy crap, this guy is trying to take my gun!" The more savvy among the readership may recognize this as getting "inside" the other guy's OODA Loop…and that is indeed the plan. When you avoid tool fixation and maintain a flexible mindset and you've managed to use a few useful techniques to put yourself in an advantageous position you can press the fight and force the other guy to react to you. That will almost always work out in your favor.
Apart from teaching specific techniques and warning about tool fixation, Paul's block was peppered with exhortations about mindset, specifically the need to get as violent as you can possibly get when you are in a close range fight over a gun. You have to win.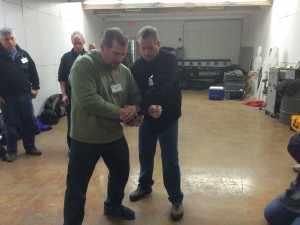 There's only so much an instructor can cover in a 3 hour block, but within that 3 hours Paul managed to cram in a lot more material than I thought possible. By the end of the block he had folks working weapon grabs and defense even in a 2 on 1 scenario and looking around I saw a room full of people with little or no exposure to this kind of training before actually doing a pretty good job of it.
…so imagine how much you could learn if you did a full couple of days in one of Paul's classes.
It was clear from even this limited block of instruction that Paul knows his material well and that he has the ability to relate critical information in an easily understandable way. If you show up for one of his classes you will learn something useful and effective that might just make all the difference in a terrible moment.