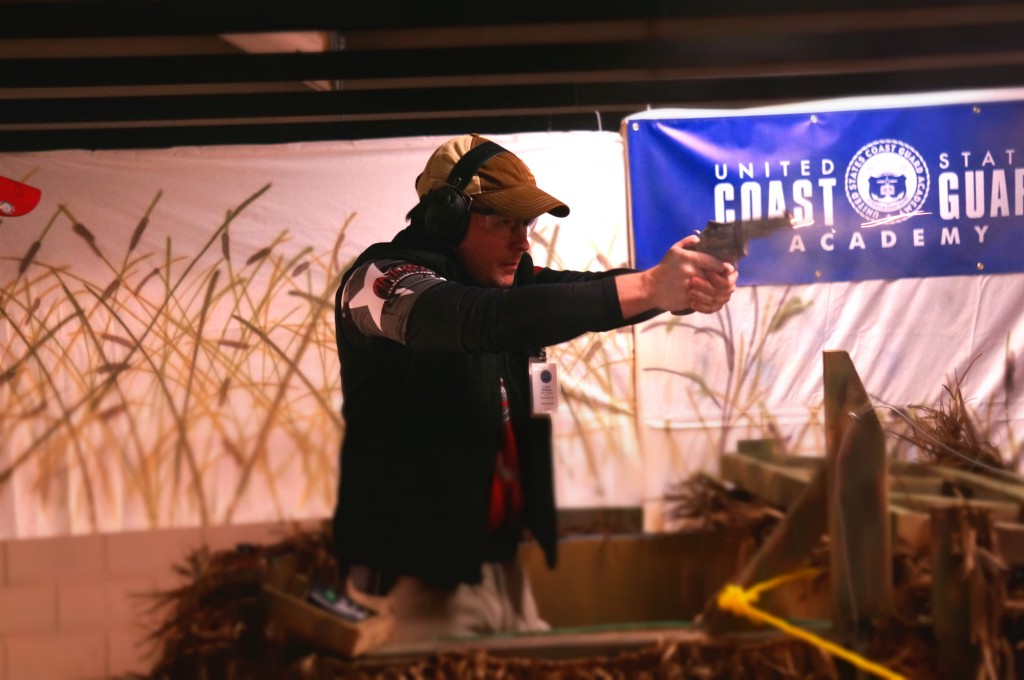 An idea I've toyed around with for a while has been getting a FAST coin with a revolver. Now that someone is going to be preserving the test and the coin in Todd's absence, it's once again something that's on the table. The FAST test/drill is a relatively simple drill – draw from concealment, fire two shots at a 3×5 head box, reload from slidelock/empty, fire four shots at the 8 inch body. To get a coin you've got to get 2 out of 3 runs under 5 seconds, clean. Hits outside of the head and body carry enormous penalties, so for the sake of this post "clean" is the only real option.
You're probably thinking "why should I care?" Well, uh…if you're interested in shooting a revolver better than you currently do and winning a coin that not a lot of people have an no one has ever won with a wheelgun? I think it's interesting, and this is my website. Anyway, let's break this down. The first thing that matters is gun selection. You want something that's going to be easy to reload relatively quickly, has minimal recoil, and most importantly can be concealed using standard IDPA concealment gear. Here are the options I'd look at:
S&W 625
Some kind of K-frame
Ruger GP100
Of those, I'd probably pick the 625, because it's going to be the fastest on the reload. Having the moonclip means all the rounds kick out at the same time, and there's no speedloader to mess with. Just drop another six in a clip down in the gun and you're good to go. The issue with a 625 is that it's a hard recoiling gun in .45 ACP, and you're going to likely have slower splits than you would with a .38 or a 9mm gun. But the reason I'd stick with the 625 in this case is because of that reload. Getting a coin with a wheelgun is won and lost on the reload. Let's break down how to get there, assuming we want to give ourselves some margin for error, our target time will be 4.80 seconds for all six shots.
Draw: 1.35
Split: 0.35
Reload: 2.25
Split: 0.25
Split: 0.25
Split: 0.25
That would give us a total time of 4.7 seconds. You can even stretch out those splits at the end to 0.30s each and still be under 5.00 pretty easily. The problem is that reload. In match conditions, I've never pulled off anything under a 2.00 with a speedloader gun, and I've never spent enough to clocking my moonclip loads. I know that under 2.5 is possible, because I've done plenty of 2.5s in practice, both live and dry fire. But that's practice we're talking about, and it only really counts if you can pull it when the chips are down.
The easiest place to "buy time" on the drill are the head shots. Two shots at a 3×5 card from concealment at 7 yards on the clock, under 1.7 seconds is our goal here. Back when I was training hard, I was getting right around that with an autoloader, and this part of drill is equipment neutral, so again I know it's doable. What's the best way to practice for this? Uh…just do it? Do a ton of reps drawing to a 3×5 card and getting two good clicks in dry fire and then replicating in live fire. Your dry fire goal par should be about 0.5 faster than your live fire par time.
That gets us to the reload. You have to drill this like crazy, because even if you're killing the headshots like a poisonous mushroom, you will absolutely win or lose the coin right here. Screw up the load and it doesn't matter how fast your follow up shots to the body are. It just doesn't. To work on this, you'll need a ton of dry fire. Get your gear perfect, eliminate all wasted movement. Do 1-reload-1 in dry fire a bunch. Like, all the time. Confirm it in live fire.
The last part of the drill is the four body shots. This is the easiest, but don't get carried away and spank rounds out of the body and lose here. A 0.25 split is a perfectly reasonable pace to run a wheelgun at, so focus on getting your hits. I'd probably run 2-3 bill drills each practice session to work on this. Also remember, with a round gun you can simulate the entire drill in dry fire. Do it two ways – slowly, working on no wasted movement, and then do put yourself on a timer. In dry fire, you should be CRUSHING your live fire par time.
And now that the chance to win a coin is back, I think I might just start working on this. I mean, not until late this year/2016, because I've got a pretty full schedule right now.