If you pay attention to Gunbroker or to the inventory of various shops and distributors you might have noticed that there's been a sudden uptick in relatively inexpensive Smith & Wesson 3rd generation semi-automatic pistols available for sale. Many of these are trade-in guns from various police departments who issued the weapons for a number of years.
In the revolver days, Smith & Wesson owned the largest chunk of the market for police sidearms in the United States. They owned a pretty big chunk of the police market overseas too, as a number of foreign police agencies issued S&W revolvers. In the early to mid 1980's a spike in drug and gang related crimes combined with the aftermath of the Miami Shootout left police departments seeking to upgrade to sidearms that had higher capacity. Everybody knows about the Beretta 92 because the US Military adopted the weapon and very high profile departments like the LAPD started issuing the weapons to replace the S&W revolvers that had been standard issue since shortly after the turn of the century. Action movies and TV shows of the day often featured the good looking Beretta 92 in displays of gratuitous violence. The P220 and P226 from Sig Sauer (imported under the Browning label at one point and later by SACO defense and Interarms prior to Sig USA being established) saw significant adoption and some screen time, too.
Smith had been producing semi-automatic pistols for a long time and had some limited adoption of them, but in the mid to late 80's as the semi-auto became the standard they offered a bewildering assortment of handguns to suit practically any taste. The "3rd Generation" semi-autos were available with different frame materials, in traditional DA/SA function, DAO function, and even SAO function. The DA/SA models could be had with de-cocker/safety systems, or in de-cocker only form. The pistols could be had in 10mm, .45 ACP, .40 S&W, 9mm, and even a few in oddball semi auto calibers like 9x21mm or .38 spl. This was all accomplished with an almost incomprehensible series of model numbers that even folks who paid attention have a hard time keeping straight.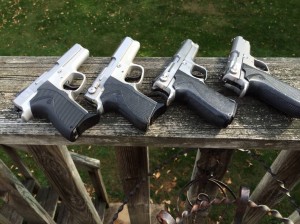 After a detailed analysis of the Miami Shootout, the FBI famously flirted with the 10mm cartridge paired with all-steel 10mm handguns manufactured by Smith & Wesson. The decocker-only configuration specified on those pistols proved to be problematic and the FBI also found that a full-power 10mm cartridge even in a big steel gun proved to be more than many agents could handle. A number of other police departments issued or authorized S&W pistols then and some still do today. The NYPD and Chicago PD authorized/issued DAO Smith & Wesson pistols for a very long time. The LAPD authorized the big 4506 for officers looking for more power than they had from their standard issue Beretta 92 pistols. The California Highway Patrol issued the all-steel 4006 for an extremely long time, well beyond the point at which S&W had tried to discontinue production of the rather expensive to manufacture 3rd gen pistols in favor of the new M&P range of pistols.
The service record of the 3rd gen S&W pistols was pretty good, for the most part. Pistols like the 4506, 4006, and 5906 proved to be very durable over the long haul and managed to keep working even when pretty poorly maintained. The S&W 3913 was one of the best concealed carry pieces ever made and to this day is revered and in high demand by those looking for the pistol's blend of compactness and power. Smith & Wesson has transitioned to the M&P line of pistols as much as possible because making guns like the 3rd gens is an absurdly expensive proposition in today's market. The cost and complexity of taking a roughly frame-shaped ingot of steel or aluminum and machining it for a few hours to whittle away 70-80% of the material and produce a frame isn't sustainable in a world where there are companies injection molding plastic in a couple of seconds.
Despite being more expensive to manufacture and more difficult to maintain, the 3rd gen guns are still damn good guns. The trade-in guns now hitting the market can be had for a pretty reasonable price in most instances, and while the exterior of the pistols look rough from years of being banged into stuff while riding in police holsters most of them are still in good functional shape. The durable workhorse 5906, an all-steel double-stack 9mm pistol, can be found in trade-in condition in the $300 range these days which is a stupendous deal if the gun's internals are in good shape. The all steel Smith & Wesson handguns have major components that can withstand some truly amazing round counts if sensibly maintained.
If someone is looking for an affordable pistol suitable for self defense one of these Smiths could be a pretty good option. There are still plenty of holsters and accessories made for the pistols and spare parts are still available to support them for a good while. For the money it's hard to think of anything else that really comes close to a good example of a S&W trade-in.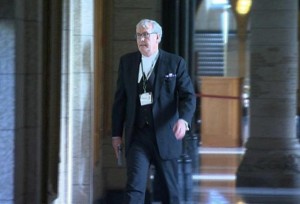 Even the rough exterior doesn't have to be an obstacle. The 3rd generation S&W's can usually be refinished pretty inexpensively. In the case of the all stainless steel guns simply bead-blasting the guns leaves them looking as good as they did when they first left the factory if not even better. A number of S&W collectors have been happily buying up guns and restoring them to like new condition…which means that the current rock-bottom prices are probably not going to last very long.
Personally I think the 3rd gen S&W's are underrated guns. They found their way into a lot of police holsters where they offered very good service for a long time. They might not be the "sexiest" of handgun options on the market today, but if you're looking for something good and relatively cheap to keep handy in case of Zombie Apocalypse or something, it's hard to beat 'em. They've done a lot of good work over the years…and as Kevin Vickers so ably demonstrated in Ottowa a couple of weeks ago, they're still more than capable of getting the job done.