There is a huge market for small guns, and it makes sense. There are entire sections of the internet dedicated to telling people how difficult it is to carry a full size gun. A few weeks ago, I decided to conduct a science experiment by carrying a full size Ruger GP100 with a four inch barrel in an OWB leather concealment holster.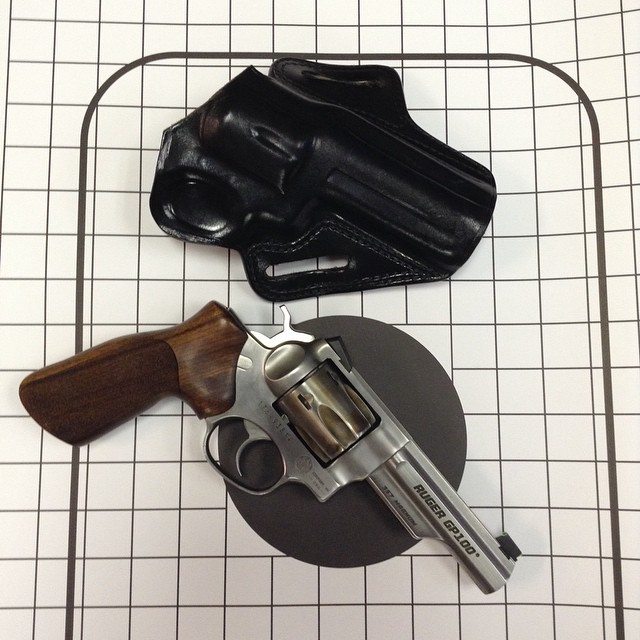 The holster I chose is a Galco Fletch, which normally has a thumb break, but has been…"customized" by removing the thumb break and snap with a pair of kitchen shears. Classy, I know. I've had that holster for a long time, and I figured it would be a perfect choice for my experiment. After selecting the gun and the holster, it was time to select various concealment garments. Over the course of the experiment I used the following: t-shirts over the gun, zip-up hoodies over the gun, and my beloved (and now discontinued) Woolrich fleece tactical vest. All of these worked just fine. I was initially concerned with printing when concealing the whole holster under an untucked shirt, but after wearing that rig in the summer for a while, I remembered that NO ONE IS PAYING ATTENTION.
It was interesting, because to me, to the people in my office, the lumpy bulge under my shirt was Obviously a Gun. But to people walking down the street? I was just a dude in an ill-fitting t-shirt. Plus, I do live in a pretty permissive state when it comes to guns, so if the tip of my holster peeks out in the grocery store, no one is going to bat an eye.
One of the difficult things about carrying a full size gun was that it made dressing like an adult a little bit more difficult. Owning a business, I get to wear whatever I want, but I don't always want to wear an untucked t-shirt. An un-tucked polo is a good choice, especially if it's fitted correctly so that it's tighter across the chest and shoulders and then baggier near the waist. I used that method to conceal a gun in an OWB holster. Probably the best concealment garment I've seen so far is a zip-up hooded sweatshirt. Zip-ups, for whatever reason, look nicer than regular hoodies, and don't seem to scream "I'm going to the gym/I hate laundry" as much. For me they're a great choice, especially with fall weather hitting us now in DTSF.
This week, I switched holsters. After carrying in a full size OWB holster, I've moved to an IWB. Also a Galco, this time a Summer Comfort which was featured on the blog yesterday. It's even easier to conceal. The but of the gun rides high enough that with my arms hanging naturally at my sides it hides the gun effectively, and the bulge is even less pronounced than it was with the OWB. The biggest problem with the OWB rig is that the bottom of the holster would pop out pretty frequently. The IWB obviously solves that.
So, the moral of the story? You can carry a full size gun. People won't notice. Of course, if you're in an NPE or somewhere where people noticing would have big time negative consequences, make sure your concealment is on lock-down. No untucked t-shirts for NPEs.