Yesterday, I mentioned that it was time for fault lines in IDPA. I opened up this discussion on my facebook page with some interesting results. If you participated in that Facebook thread, I want to flesh the idea out here and explain how we could use fault lines in IDPA while preserving the spirit of cover.
To understand the need for fault lines, we first have to establish that there is a problem with the existing system. For those not familiar with IDPA, the spirit of the game calls for shooters to use cover to shield their body from the threat targets. All of the shooter's lower body and 50% of the shooter's upper body must be concealed when engaging a threat target. Failure to maintain this level of cover will result in a 3 second penalty added to the shooter's time. Currently, this penalty is enforced by the Safety Officer's running the stage, who will generally look at the shooter's foot placement relative to an invisible "cover line" and then make a judgement call as to whether or not the shooter was appropriately using cover.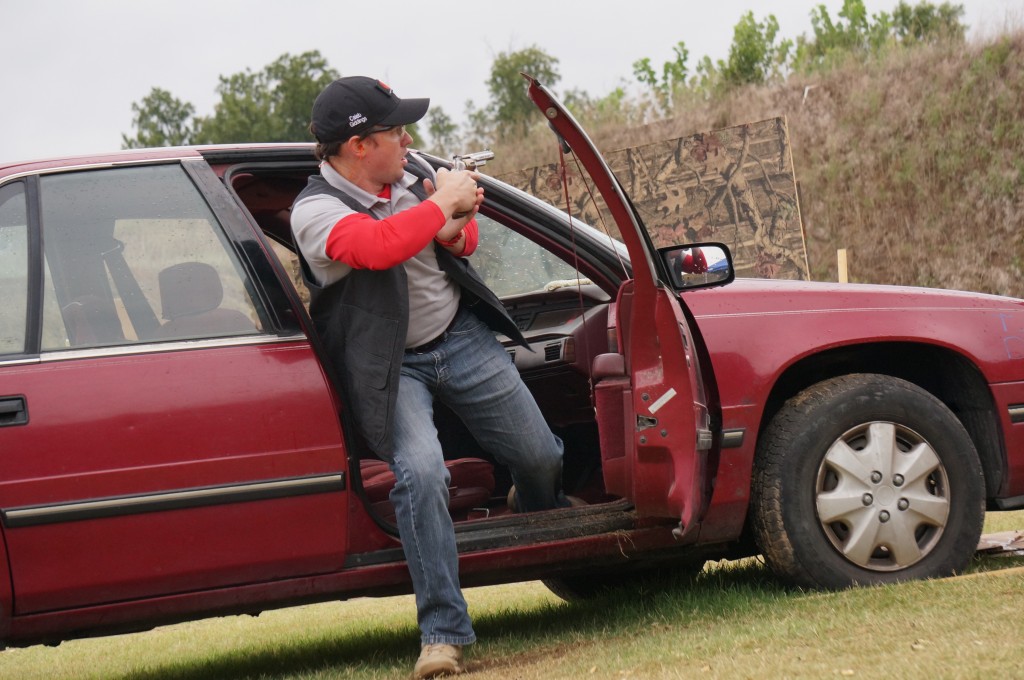 The reason this is a problem is that it is an entirely subjective decision on the part of the safety officer; and the degree with which its enforced can vary from SO to SO, and in the case of this year's nationals, from bay to bay. I am not trying to bag on the SOs at Nationals, or the match itself; I thought the SOs did a good job and each bay applied the rules in the same fashion to every shooter that came through their bay, however there were variances in how the rules were applied from bay to bay. You see variances like this at Nationals because the SO staff is pulled from across the country, meaning different clubs with different club cultures and ideas about what really defines cover will be running various stages. As a side note, I generally see less variance in cover calls at the S&W Indoor Nationals, which is likely because the SO staff for that match largely comes from the North East region and is fairly homogeneous.
Ultimately, this subjectivity is why it's time for IDPA to begin using fault lines. The dirty little secret that no one talks about is that IDPA already uses fault lines it's just that they're currently invisible. Subjectivity in any sporting endeavor is a bad thing. If you look at the NFL or MLB, all of the major advancements in officiating have come in the name of removing subjectivity from important calls. Do referees and umpires still make mistakes? Certainly. Fault lines won't prevent mistakes either, but it will make the job of judging a shooter's use of cover much easier. "Your toe was clearly over the line" is a lot easier call to make than "your toe was past the edge of this barrel which is the invisible line of cover" – and it's much harder for shooters to argue about objective calls than it is subjective cover calls.
Now, there are some objections to using fault lines, and I want to take the time to address those here. First, is the obvious and simplistic "there are no fault lines in the real world." Yes, you're correct, there are no fault lines in the world. Here's another related fact: IDPA "cover" isn't very real world either. As a community of IDPA shooters, we need to get over the notion that IDPA is tactical and accept that it is a game. Yes, it is more practical than USPSA or steel challenge, but it is ultimately just a game. Once we accept that, we can actually have a real conversation about improving the game.
It is possible within the framework of the game to use fault lines and yet preserve the intent of the rules; the utilization of cover, shielding your body from fire, etc. Fault lines allow for great creativity on the part of a stage designer. Whenever the conversation of fault lines comes up, everyone automatically assumes that they would be huge, generous lines that would completely eliminate the concept of cover. But that doesn't have to be the case. It also ignores the reality of IDPA cover – if I'm using IDPA cover appropriately for a three target array, I can quite frequently see the entire array and engage it from the first "cover" position. Sometimes I have to shift my foot a few inches for the last target, but that's rarely the case. So using fault lines becomes and exercise in stage design creativity, as mentioned above. For a three target array that you want to keep simple, you could place the fault line somewhere in the middle – making the first target slightly easier, and the rest fairly normal. Or, if you want to force a tight shot around cover, place the fault line close in to the shooter, making them using a more more "real world" style of cover by leaning as little of their body around the barrier as possible.
Here is the point, after over 800 words. You can absolutely use fault lines in IDPA and preserve the spirit of the game to use cover. A creative stage designer could even place forward fault lines in stages to prevent shooters from crowding cover. That's really what I'm driving at here. The current system of cover limits both shooters and stage designers. Adding fault lines removes a huge part of the subjective nature of cover, and creates nearly endless possibilities for creative stage designers to challenge shooters' abilities to get in and out of positions of cover. It allows SOs on the stage to focus on shooter safety, instead of watching them shuffle step around seeking the invisible cover line.
I understand there are objections to fault lines. And I know shooters will have comments on this post, and I welcome them. I want to start a real conversation about using fault lines in IDPA and how to successfully implement them, what objections people may have that I've not thought of. Please post your thoughts in the comments section.