One of the things I like to do is put together simple practice sessions for shooters who are on a time and money budget. Let's face facts, ammo costs money, and range trips cost time, the most precious resource of all. But there has to be a way to practice the fundamentals of marksmanship in a fairly compressed time frame. Revolvers add a further complication w/regards to ammo management. Here's a simple 100 round practice session you can do with just 100 rounds and one IDPA, Pistol-Training, or USPSA target.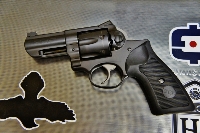 You will need a 6 shot revolver, a holster, and at least two speedloaders with carriers. Start by loading the revo with only 2 rounds and have a loaded speedloader ready to go.
Draw and fire 2 rounds at the head box, reload and fire two rounds at the body.
Draw and fire 2 rounds at the head box.
Repeat steps one and two until ammo is exhausted
A note: after your first 50 rounds, you'll have to re-stage the gun with just two rounds again to finish the drills. I usually set this up at either 10 or 7 yards, depending on the target I'm using. With an IDPA target, because the head box is so big I'll go with 10, with the PTC target and its 3×5 head box I move in to 7.
If your set up permits, I recommend adding a second target, you'll fire on this one after completing your reload, adding a bit of target movement into the drill. An alternate version of the drill changes it to draw, shoot 2, reload, shoot 4 on two different targets. This burns up your ammo quicker, but then allows you to work a proper transition. You can also run these drills on steel targets or pretty much whatever you have handy. Concealment or open, depending on what you're training for. To adapt it for a five shot revolver, only fire 1 round after the reload. This simple drill will allow you to get through 100 rounds, work on drawing to small targets, reloads, and possibly transitions. You can set it up on a single lane range or with as many targets as you'd like.