After spending nearly a year looking for a host range we've finally found a range to host the classes that's withing a reasonable driving distance of Sioux Falls. We'll be teaching classes out at the Beacon Hill Club in Brookings; because of the time of the year there are only going to be a couple of classes, one in September and one in October. I'm working on getting the dates ironed out right now, but once I do I'll have links posted to the signup page for each class.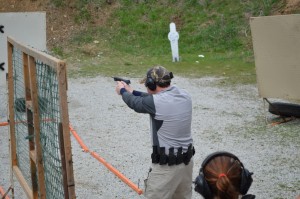 Initially, I'm going to offer one class: Basic Pistol/Defensive Pistol 101. This is an entry level class for people looking to improve their skill with a concealed carry or home defense handgun. What will be covered in the class: the fundamentals of marksmanship, drawing from open and concealed holsters, reloading from open and concealed pouches, multiple shots on a single target and target transitions. Classes will be for a single, 8-9 hour day and will consume 300-400 rounds of pistol ammo. This is a shooting class, and will focus solely on manipulation and working the gun faster and more accurately.
What a student will need:
A functioning handgun (pistol or revolver)
Sufficient magazines or speedloaders to carry 30 rounds to the line
Earpro/eyepro, hats are optional but encouraged
Weather appropriate clothing
Ample water
Note taking device
300-400 rounds of ammo
A holster that allows you to safely re-holster one handed (IWB or OWB)
Sufficient magazine pouches or speedloader holders
Concealment garment
A note on food – we will have a lunch break, however the range is a decent drive from any sort of fast food. I strongly recommend bringing a sack lunch, as well as de-lead wipes. Total cost for the full day class will be $150, which includes a $10 range use fee that goes directly to Beacon Hill.
If you're interested in classes coming to Sioux Falls, shoot me an email at [email protected] to get on the mailing list for more information. I should be posting class dates and signups soon.