As we continue our discussion of adding lights and lasers to your defensive firearms, the topic of revolvers is bound to come up. Regardless of the rise in popularity of semi-auto pistols, there are still approximately 1 jillion revolvers out there in holsters and nightstands. For HD/defensive handguns, the hierarchy of needs as I see is: 1) white light, 2) laser, 3) night sights in that order.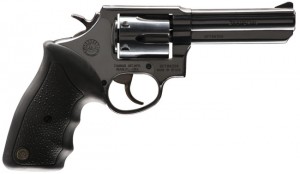 We're immediately presented with a problem, because mounting a white light on a revolver is tricky at best. If your defensive revolver looks similar to the Taurus 82 pictured, it probably doesn't have a dovetail rear sight, and it probably doesn't have a rail on it for mounting a light either. Unless you have one of the 8 shot N-frame S&W Performance Center guns with the rail on it, options are limited. Obviously, you could just use duct tape to attach the light to the barrel of the gun, which wouldn't be ideal, but in a pinch it would probably work. I've seen stranger things. If your gun has a full length underlug, you could have it drilled and tapped and have a strip of rail added to it for a light, but then that creates holster issues.
Truth be told, I can't think of a good way to mount a white light to a wheelgun. There are some gimmicky rail attachments out there, some really silly stuff. Honestly, the best thing to do is get a good handheld flashlight and practice with it. Two things on light selection: make sure it's a light with a permanent on/off switch, not one where you have to maintain continuous pressure to keep it on. I like the Terralux TT 1
as my go-to light. It's small enough to fit easily in a pocket, provides tons of light on its brightest setting, and has a selectable strobe on it as well. Because it's small, you can use a modified Surefire grip on it, just click the tailcap to turn it on, then click the tailcap to turn it off. I've personally used the TerraLux on low and no light stages at IDPA Indoor Nationals, and it works great.
The laser issue is easily solved. Get some Crimson Trace Lasergrips for your revolver. Especially if you're carrying a J-frame or any wheelgun with those gutter (is a tool) sights on them. Seriously, gutter sights are pretty terrible for serious shooting activities, so put some sweet beams on there.
Night sights…can be a problem. Most revolvers don't come with dovetails for replacing the factory sights. If you have an adjustable sight S&W revolver, you can replace the rear sight with the C&S Extreme Duty, which are pretty great. There are also XS front sights available for both Ruger and S&W revolvers, and you can get those with night sights. But the truth is that night sights are hard to get. A good option is a fiber optic front sight, because those will collect ambient light very well in low-light, and will definitely collect the light from your flashlight.
But the easiest way to get a defensive light on your revolver is to go buy a semi-auto pistol and and put gear on that. However, I love revolvers, so I'm always looking for ways to bring them into the 21st Century.