The first gun I ever really learned to shoot halfway decent was a Smith & Wesson 625 revolver. I used it to make Master class in IDPA, and shot a number of state level IDPA matches with it. As guns go, I really liked it…so for some reason I sold it about three years ago. I do that from time to time – I go through the guns I own and sell a bunch of them off because "I never shoot this anymore" which is usually because I'm getting paid to shoot something else, or I've been seized by a fit of gunderp temporarily and have decided to only shoot vintage Star BMs chambered in 9mm Largo.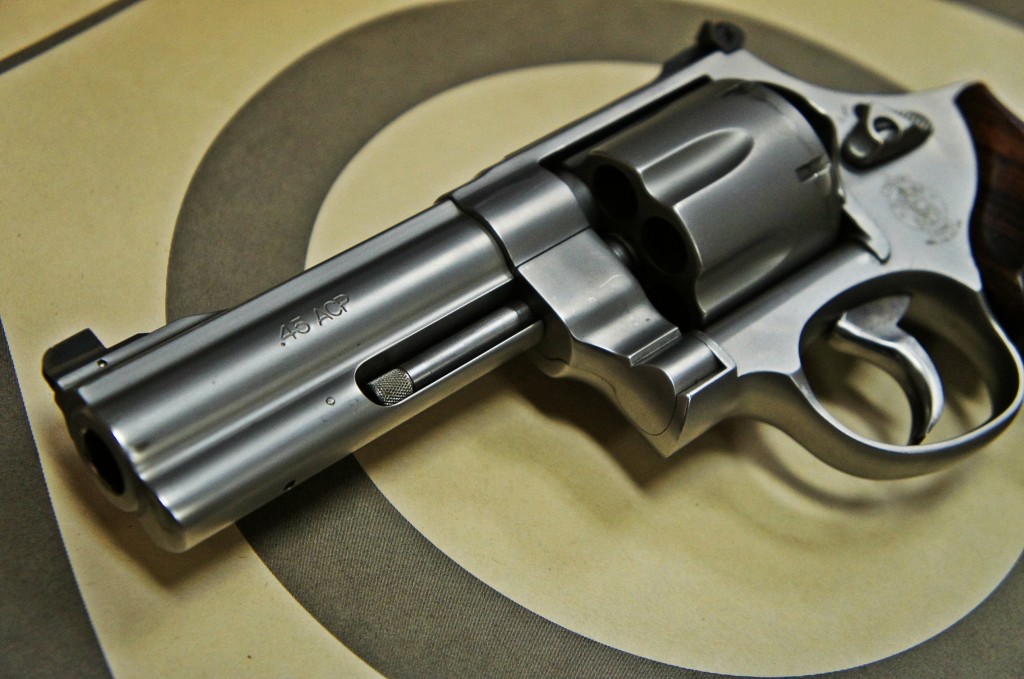 I mentioned a while ago that I always seem to come back to revolvers for my shooting guns, and it's true. I like shooting revolvers, and I generally think they're fine things to own just to have around. So it shouldn't come as a surprise to anyone that I recently picked up a second hand 625 that had pretty clearly been set up for IDPA/USPSA competition by its previous owner.
It's a simple gun, the 625. Based on a design that's almost 100 years old, it updates the old 1917 revolver with modern engineering, a stainless finish, full moon clips instead of half, adjustable sights, and a full underlug barrel. This particular gun has been converted to DAO (as all good competition revolvers should), had an action job, and had a overtravel stop installed in the trigger. In all, it is a pretty nice gun that's ready to go out of the box for IDPA ESR division…which is exactly where I plan on shooting it. The thought of getting back to my IDPA roots is kind of appealing to me – I got my start in ESR, so I might as well go back and shoot it again. Plus, shooting the 929 got me hankering for a proper big-bore N-frame, and the 625 fits that description in every possible way.
I am probably going to make some changes to the gun, because that's how I roll. I'll probably ditch the adjustable rear sight in favor of a Cylinder & Slide Extreme Duty sight, and I definitely want to change the trigger rebound spring to something heavier. Right now the DA trigger pull is about 6 pounds, which is very light, but because the rebound spring isn't as heavy as I like, I find myself at times short stroking the trigger. I have my 929 set at about 9 pounds with a factory rebound spring, because I'm willing to sacrifice a little pull weight for a reliable trigger reset.
But all of that is immaterial, because I'm just happy to have a proper, big bore N-frame in the house again. Wheelguns are realguns, after all.