I've bought and sold a lot of guns. My co-workers have noticed that I don't get particularly attached to guns, and as a result I'll buy a gun, shoot it a little bit, get bored with it and then let it go to someone else. I've never really been into collecting guns for their value as collector's items; other than a short period of time where I collected obscure Berettas. One of the cool guns I let go was an old S&W revolver; specifically a Model 1917.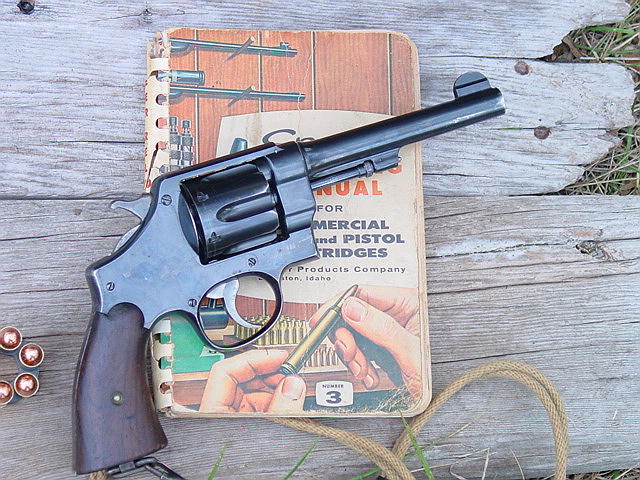 The Model 1917s were produced as substitute guns for WWI when the Army didn't have enough 1911 pistols to go around; chambered in .45 ACP and using half-moon clips to properly headspace/extract the cartridges. Smith & Wesson kept the gun in production through the 1950s, because it's awesome. They also made runs of Model 1917s for the British military, chambered in .455 Webley, one of which famously was used by Indiana Jones to shoot a sword wielding Arab in Raiders of the Lost Ark.
In the 30s, the government of Brazil ordered 25,000 1917s, which were identical to the standard available model, but stamped with the government crest of Brazil on the sideplate. Over the years, quite a few have made their way back to the states as surplus guns, and most of them are in pretty good condition. There's something truly great about a Hand Ejector style wheelgun in .45 ACP with old school revolver sights, and mine was a dream to shoot. But like other great revolvers I used to own, my 24 year old self was a stupid jerkface and sold it, probably using the money to buy something dumb like a pair of Taurus Trackers (this actually happened, and I'm forever ashamed).
I've let three really good wheelguns get away from me:
Smith & Wesson Model 1917 Brazilian Contract
Colt Trooper MkIII from 1976
A Webley Mk IV in .38/200
I do wish I could go back in time and tell younger, dumber Caleb that hey, maybe don't sell those guns. They're only going to go up in value, and you can always buy a Glock. There will be a time when the market completely dries up for sweet old wheelguns, and then I'll be really sad that I let a .45 ACP 1917 go.