Last week I managed to snag a rare warm, sunny Friday off to go to the range with some friends…and when we arrived we found the range was a disaster area. We had barely gotten out of my buddy's ancient Jeep when a couple of U.S. Forrest Service employees showed up to assess the damage to the place caused by cretinous jackasses of the lowest breeding and poorest intellect imaginable. This public range, you see, had been closed down at least once before due to wanton abuse by feckless nitwits who insist on tearing the place up.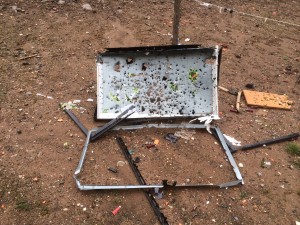 We grabbed trash bags and helped the Forrest Service employees clean up what could be cleaned up on the range. Apart from the pictured TV there were door locks, chunks of some sort of ceramic items that had been smashed with gunfire, and more shattered beer and liquor bottles than could hope to clean up. Of course the shelter by the benches had a number of holes in it where some unforgivable twit had blasted at it with a shotgun and some rifles. Even the little bathroom hut had been shot up. The Forrest Service employee I was working with mentioned that last year they'd had to replace the doors on the bathrooms because some idiots had shotgunned them at point blank range.
While we were cleaning the place up they were discussing closing the range permanently due to the level of abuse that has gone on at that range over the years. And so an increasingly rare public place to shoot is endangered because of the behavior of obstreperous nitwits. If I ruled the world I'd have the bastards horse-whipped and then pilloried in the town square. As a fundraiser to repair the damage they've done to the range I'd charge the general public a dollar a pop to throw rotten fruit at their face.
This isn't merely stupidity at work. It's the product of people who derive pleasure from the act of screwing things up for everyone else. There's a certain breed of individual who never moved past the angsty teenager stage of life and since they hate the world they've decided they're going to inflict as much misery on the world as they can. This kind of person vexes me. Heaps me.
…which brings us to this: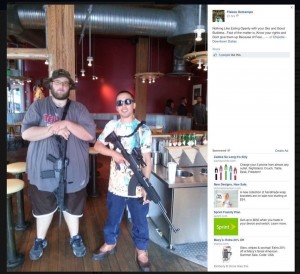 There's no real difference between the jackasses who are trying their best to shut down an increasingly rare public shooting space and these geniuses waging their "LOOK AT ME!!!!" campaign. They're both actively trying to tear ***CENSORED*** up.
Yes, I know they sell this sort of nonsense as a form of "activism" but I think that's horsefeathers. To quote the wisest thing I've seen said on this ridiculous debacle "…if every time you open carry it results in a new gun free zone, you might want to try changing things up." If they were actually trying to advance a particular legislative agenda they wouldn't be pulling these sorts of shenanigans as it's plainly obvious to anyone who hasn't willingly taken leave of their senses that this fertilizer isn't helping the situation. 
I belong to an organization called the Virginia Citizens Defense League. It's one of the most effective state-level gun rights organizations in the country. The organization has a track record of accomplishing important things for gun owners in the Commonwealth. One of the reasons it is an effective organization is because it's headed by sane human being, and everybody in the membership cares deeply about making progress in the state house in Richmond rather than posting idiotic facebook photos. Every year VCDL members gather in Richmond for "lobby day" where they show up in numbers. They're polite, presentable, and maintain a professional demeanor. Some of them are even openly carrying a handgun. All of them are wearing the trademark "Guns Save Lives" stickers and buttons. State legislators cannot help but note the sea of orange stickers in their midst on lobby day, and when the VCDL gets coverage in the press it's always a well-spoken, presentable advocate for gun rights that shows up on TV or in the paper. Motivated. Focused. Polite. Professional. Effective.
Everything the dudes in that ridiculous photo…and those of their ilk…aren't. That photo isn't about advancing gun rights. Nobody with a room temperature or better IQ is dense enough to believe that somehow what's shown in that photo is going to actually advance any reasonable cause. To quote Tam, "there's a difference between carrying a gun and carrying a gun at somebody." This difference is easily discerned by the general public. That ridiculous stunt was a display of ego, as thoroughly inappropriate as loudly passing gas and laughing like a hyena during a moment of silence.
Attempting Westboro Baptist-worthy nonsense is not going to advance the second amendment cause any more than that gaggle of morons advances the Christian faith. It's high time those of us who do care about advancing a worthy cause and preserving important resources start calling the loathsome jackasses who leave havoc in their wake out for the scoundrels that they are.
If you're running around tearing up public spaces or deliberately being such an obnoxious twit that you succeed in curtailing the freedoms of other gun owners, knock it the hell off. You're not a patriot or a sheepdog or whatever other pathetic label you want to try and paste on your feckless crap. You're just an obnoxious twit. Sort your ***CENSORED*** out and act right, dammit.