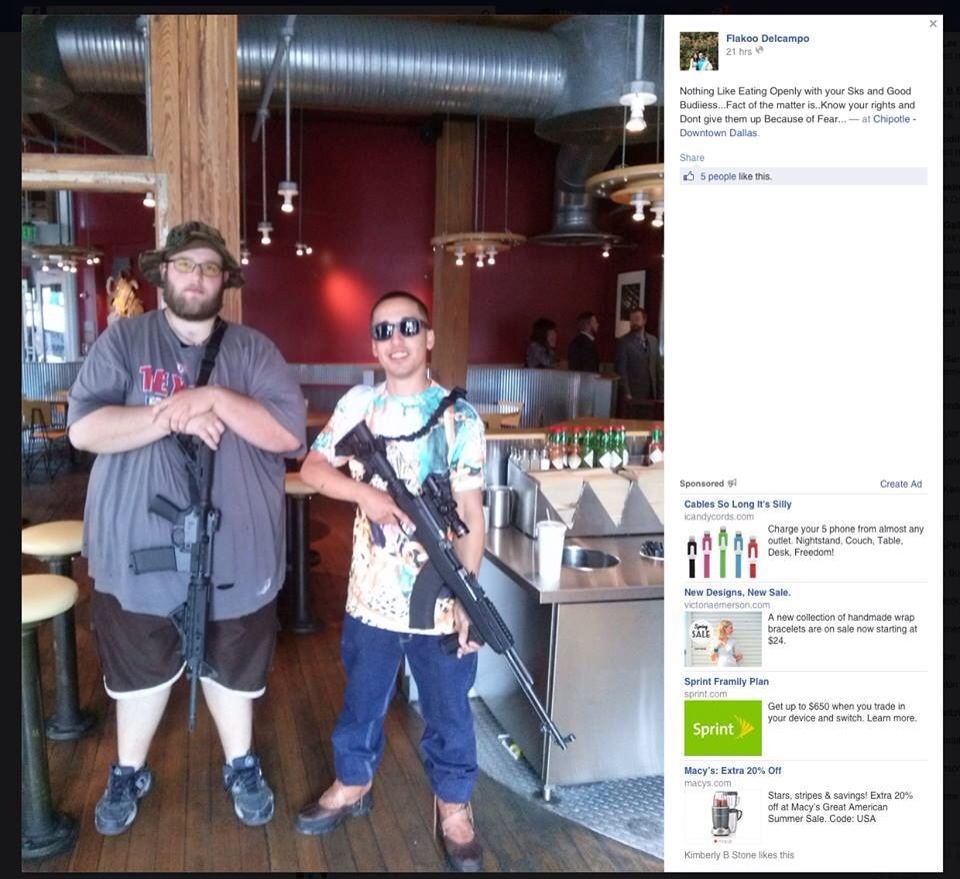 You've probably seen this photo. It's of two idiots who OC'd long guns into a Chipotle in Texas, which has resulted in Chipotle effectively banning guns from all their establishments nationwide. Sweet move, OC a-holes.
The thing is, this isn't the first time that OC guys from Texas has been in the news, and not even in the last four weeks. Not too long ago, a bunch of Texas guys OC'd their rifles into a Jack in the Box, resulting in another media outburst. It's gotten to the point where I just assume that there will be an OC event in Texas, and it will result in another gun free zone. Because that's what has happened the last two times. OC rifles in fast food joints…get those fast food joints to ban all carry.
To understand what's wrong with OC in Texas, you have to understand that they actually don't have great carry laws. The open carry of handguns is actually illegal under Texas law, so the attention seeking OC types that would normally be carrying a Hi-Point around in a piece of shit nylon holster have to carry SKS rifles around that look like the Tapco catalog threw up all over them. So just because some guy didn't get enough hugs growing up, he now has to seek attention in a way that messes with everyone else's gun rights.
See, this is important to understand: carrying a handgun around openly is relatively normal. Hell, half the time people don't notice. You're just carrying a gun and going about your business. Carrying a rifle openly is totally not the same thing because absolutely notice you carrying a rifle. It's not normal. In fact, it's so not normal that 100% of gun shops I've been to frown upon it, and it would absolutely get you booted out of a gun show.
So what exactly is wrong with open carry in Texas? I'm half expecting them to show up OC'ing long guns at a Catholic Church next and get the Pope to ban carrying in all church properties.
Guys, if you're in Texas and you OC a long gun, this message is for you: JUST KNOCK IT OFF. YOU'RE NOT HELPING.