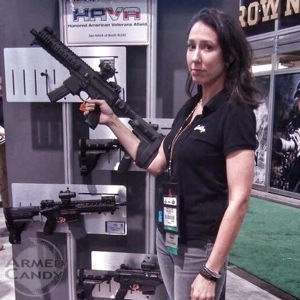 While working on my interior design degree I saw a lot of unrealistic projects. Often, students who attempted to create something utterly original, forgot about things like gravity and good taste. My perusuit of an education in an applied design (instead of a major like painting or sculpture), was specifically chosen to avoid such work.
Outside the box designs are impressive because they acknowledge and respect the definition of a box. That begin said, it was this time last year that I was sent an image of the AR-15 pistol Brace from Sig Sauer. It came with no explanation, branding, not even a title, and my initial reaction was, "Great! Now all the tacticool fools, can play Robocop on the weekends." Until I was told that the design was created for use by the disabled I continued to be bothered by it. It seemed like an unneccisary act of defiance aimed at the ATF.
I am all for designs that offer freedom to those who are differently able. In interior design we had and entire class dedicated to learning to create spaces that follow rules that allowed those folks to use a space just as the rest of us. Sometimes, when working within ADA rules, amazing designs occur. But to those people I overheard saying, "Yay! Now I can have a short barreled rifle without the paperwork!…" I say, "Shame on you!"
Last month the ATF responded to Sig's brace by saying that the product did not break any laws through its design. Those who would use the brace in another way than how it was designed, were outside the jurisdiction of the ATF and Sig Sauer could not be held responsible for the the actions of these folks either. I agree with the ATF's assessment of the arm brace, but I think we should all take issue with those who are misusing the product. Not only are they insensitively using a product meant for those who are less able-bodied than they are, but they are also drawing the attention of the ATF in a manner that may bring penalties down upon all of us. Therefor, I retract my original disappointment, which I felt toward Sig, for creating the arm brace and now direct it toward those who choose to "poke" the ATF.