I hate dry fire. It's boring, repetitive, and I really don't enjoy doing it. That's a big part of why I don't dry fire as much as I should, because it's just not fun. I had a short conversation recently with OrigamiAK, the King of All Junk Carry and Wizard of Oregon about dry fire, and how he's come to enjoy it. He sees it as part of the challenge of getting a good hit in live fire, and for him that drives him to dry fire more. The other day, I was doing something I enjoy, and while resting between sets I picked up my gun and did a little dry fire. As it turns out, if I introduce push-ups into the mix, I like dry fire a lot more.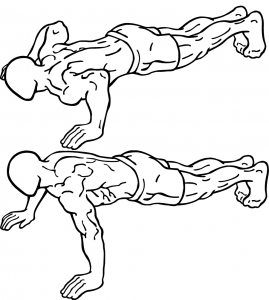 Right now, I'm on my "in-season/road friendly" training plan, because I'm at the point of the year where regularly finding a gym can be problematic. So workouts are as simple as I can make them – focusing on push-ups, pull-ups, squats, and running. These are things that I can do in pretty much any gym or hotel room. Yesterday, I started mixing dry fire into the equation. Resting between sets up to 90 seconds gives me ample time to put on my CR Speed belt and do a few draws or reloads.
What I like about the dry fire during PT is that it forces me to focus. Changing gears from blasting out push-ups to focusing on executing a clean reload isn't easy, and it forces me to train to do a fine motor skill (reloading) while I'm under physical stress. It's a lot easier to get a perfect trigger pull or a perfect reload when I'm calm and relaxed. That was one of the frustrations I had with dry fire training – I'd be able to whack sub second reloads all the time in dry fire, but under match conditions I'd come apart. Inducing actual stress into my dry fire training has me hoping that I'll see less skill degradation under match conditions.
So far, dry fire + PT is working for me as a way to keep me interested in dry fire. Trying to stick a reload in under 1.2 seconds is a lot harder after 50 push-ups, and for the first time I'm really enjoying dry fire training.