After seven months of working exclusively with wheelguns, it's time to get serious with semi-auto pistols again. One of the most important pistol skills for competition shooters in the Production and Single Stack divisions is the reload. An average USPSA stage will have 2-4 reloads, IDPA stages will usually have at least one. My reload technique has evolved over time, today we're looking at the "workspace" reload.
For novice shooters, your "workspace" is the area directly in front of your face – it's the stuff you can see without moving your head up or down. Keeping the gun "up in your workspace" is considered an advantage by some tactical trainers so that you can keep your eyes downrange even while looking the magazine home into the gun. Here's a pretty good photo of me reloading in my workspace.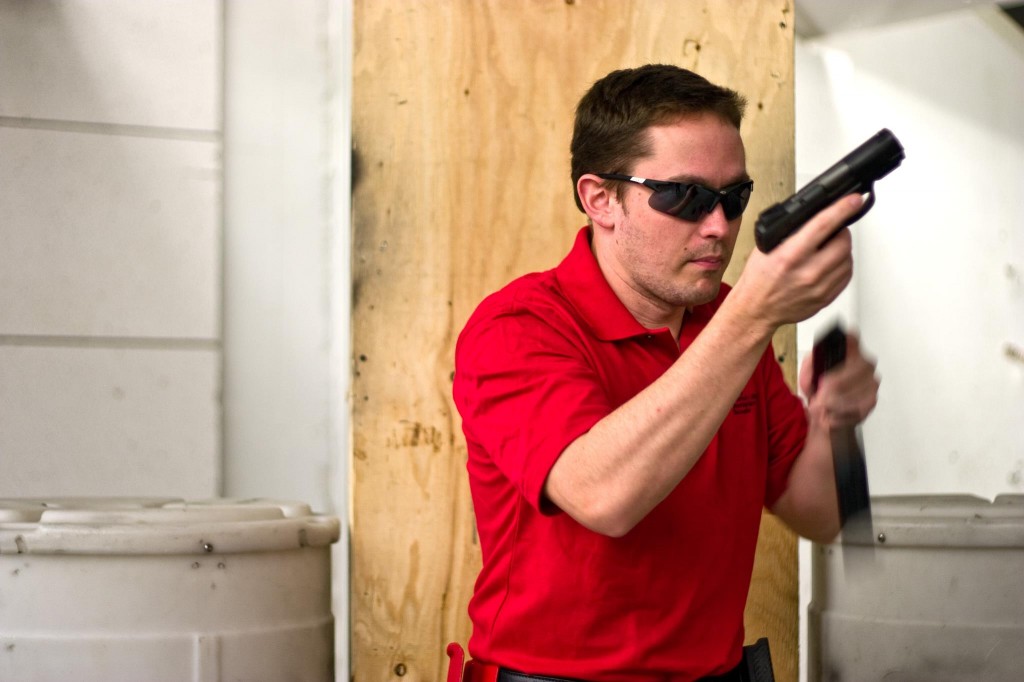 I got pretty good at reloading up high like that, and could consistently stick reloads around 1 second from an open mag pouch. The advantage to reloading up high like that is that you don't have to look down – even if you take your eyes off the target to look the magazine into the gun (like you should) your head is still up, making it easier to see important stuff downrange when you finish the reload.
The disadvantage to reload up so high is that as it turns out, it's slower. It may only be a half a second or so, when compared to bringing the gun down lower, but a half-second is a long time, especially in a match. Let's say that a major IDPA match has an average of 1.5 reloads over the course of 12 stages. That half-second per reload turns into a six second swing, which can easily be the difference between winning and losing. Since IDPA reloads must all now be static, sticking the load quickly becomes even more important to a successful stage, because you can't move until the gun is loaded. It's a little more flexible in USPSA, as the ability to reload while moving between positions gives you the change to take your reload as a free action on the move; but you still don't want to have a slow load.
Ultimately, reloading in the workspace vs. a little lower isn't a hill worth dying on. If you reload up high and like it, keep doing it. I would say that if you're PURELY focused on shooting for self-defense and don't care about competition, the visual advantages of having the gun up high are preferable, so work that workspace reload like a boss. Just don't get too crazy with like some instructors teach where the gun is straight up and down, or the magwell is up in your eyeballs.