Did you ever go out with someone that you were absolutely crazy about, only to find out somewhat later that she was actually crazy? You manage to get clear of the meltdown without getting burned too badly, but even though you know that moving into a little flat in Chernobyl would be safer than getting her back into your life there's still this completely irrational attraction you can't shake off. Every now and then you go to a party or an event and she's there, and heavens does she look amazing. In the moment you see the smile and the cute way she brushes her hair back behind her ear when she's flirting…and things start to happen. Your olfactory receptors are catching the subtle scent of her perfume, triggering all sorts of memories to the point where you can practically feel the dopamine hitting your brain like a warm summer breeze. She is beautiful, isn't she? Didn't you two have some amazing times together? The few neurons in your head that aren't bathing in all the feel-good chemicals swirling around up there remind you that she's actually quite mad. She may be blushing slightly and smiling innocently now, but you know from hard experience that she's capable of pulling your still-beating heart from your chest, taking a great big bite out of it, and then spitting it in your face…all while wearing the exact same smile. Yet there you are, still talking to her. Agreeing that yes, you really should get together and catch up sometime…
Oh, right. This is a gun column. Well, that perhaps slightly too biographical description works pretty well to sum up my feelings on the 1911. I spent my formative years in the closing era of gun magazines as an authority on firearms, which means I was routinely exposed to centerfold quality pictures of finely crafted 1911 pistols. I developed a particularly strong attraction to Colt Gold Cup and Delta Elite pistols that had been customized. Sometimes when I'm sitting in a meeting I'll Google image search "Gold Cup custom" (I have such a window open right now…yes, I have a problem) and gawk at the results until I'm as glassy-eyed as all the other people in the room…only I'm thinking about 1911's while they're just feeling the life force being sucked out of them into the gaping maw of pointlessness caused by listening to the most boring human being on planet earth give a mandatory lecture on information nobody in the room really cares about.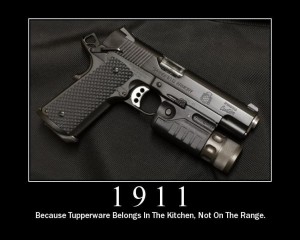 I also happened to be doing a lot of shopping as the 1911 was seeing a renewed popularity in the market due to a liberalization of concealed carry laws and the ridiculous Clinton assault weapons ban limitation on magazine capacity. If you're stuck with 10 rounds in your pistol suddenly the appeal of the wonder-nine guns was somewhat diminished. Kimber and Springfield Armory started producing 1911's with desirable custom features like extended thumb safeties, beavertail grip safeties, and Novak sights for less than the cost of what you'd pay for a plain-Jane Colt 1911 that would need to have all that work done at a custom shop.
Armed with all the quality knowledge about the 1911 you could get by drooling over gun magazine centerfolds, drawn by the allure of the custom 1911 praised to high heaven by gun writers, and now with the added consumer idea that everything you could ever need in a 1911 was available on the cheap, I plunked down the (still quite large) amount of money for one and absolutely loved it. Right up until the moment I tried to shoot it. When it couldn't cycle through a magazine without a stoppage and the rear sight flew off, I started to wonder if perhaps there's a reason why this was cheaper than a Colt customized in a competent shop. I fettled and futzed and sent the gun back to the manufacturer and they returned it to me saying it was working. Fantastic! Except it still didn't feed harball reliably on the next range trip. Worse, somehow the plunger tube had been dented enough to freeze the safety plunger in place, allowing the poorly made/fitted safety to flop around like a fish you just pulled in the boat. Turns out that the plunger tube was made of metal so soft it bent like the silver wrapper on Wrigley's chewing gum.
That pistol was replaced by a couple of others…and, predictably, they didn't work right either. I learned the hard way that while there were certainly a lot of 1911 pattern pistols on the market, there weren't a whole lot of people out there building them properly. At first I thought it was just me, that maybe there was some ancient 1911 ritual wherein you anointed the pistol and the Wilson magazines you bought for it with the blood of a virgin conceived during a full moon that I wasn't doing right. Research and talking to people much smarter than me led me to the conclusion that if you want a reliable 1911 with no problems, you had to go custom. So I did…and I finally got a 1911 that worked! It cost more than 3 times what a Glock was selling for, but by gum I finally had my 1911 and I now knew the key to the 1911 universe. Just go custom and it'll work!
At least that's what I thought until I started attending training and saw other guys packing custom 1911 pistols that cost even more than mine did who couldn't get them to work. One individual showed me a gun he paid over three thousand dollars for that had been back to the smith he bought it from six times without positive result. Worse, the smith had basically told him to go pound sand and that he wasn't going to do anything else on the gun. I found this very disturbing and asked around and it wasn't long until I'd compiled a list of people who had somewhat similar experiences with custom 1911 pistols. Buying custom, then, wasn't quite the magic bullet I originally thought.
I started to see the 1911 as the kind of gun that would take a giant bite out of your wallet and then spit it in your face. The very idea that you can spend north of 2 grand on a pistol that doesn't work properly just about makes me break out in hives…but that's the reality of the 1911 market as a whole. You don't have to know Glocks terribly well to get one that works, but if you want to get a 1911 you'd better hit the books (Kuhnhausen would be a good start) and learn the important stuff so you don't end up sinking a bunch of money into a lemon.
Yes, some people talk absolute nonsense about the 1911…but the fact remains that there's still a lot to hate about the 1911 as it exists in the market today. To paraphrase The Animals…it's been the ruin of many a poor boy, and God, I know I'm one…