We are forever telling our fans and readers to "go get training, go get training." Many shooters want to get training, but don't know where to get it from. In the training world, there are two options: go to an individual trainer, or go to a training school. A training school has some advantages, larger staff means they can accommodate more students, a fixed location usually means better facilities, and a business oriented mindset can help eliminate a lot of the silly issues you sometimes run into when dealing with individual instructors. To make the list, a school had to be an actual school – a fixed location with multiple instructors. There is a huge selection available of individual instruction out there, and a lot of "schools" that are just one "name" instructor and a cadre of yes-men. They don't make the list. Want to get good training? Go to one of these places.
1. Gunsite Academy
The OG of training schools. Gunsite is the fountain from whence all other training schools have come. Here's the deal about Gunsite – they won't teach the latest and greatest techniques. But the Modern Technique, the Weaver that they teach will still work, and if your goal is to "defend your family and your life" than taking a 250 course at Gunsite is a great place to begin that journey. The other excellent thing about Gunsite is that they spend a considerable amount of time talking about mindset.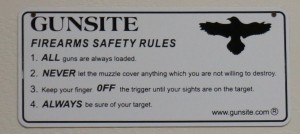 2. Rogers Shooting School
The only school on this list that I've not personally attended, Rogers makes it on the recommendation of basically everyone who's been there. It is hard, and it not a school for the beginning pistol shooter. But it's tough, and all the intermediate or better shooters who've gone to Rogers will tell you that they learned quite a bit about their shooting from attending Rogers. The RSS uses a disappearing plate rack system that challenges shooters to hit plates under a very specific par time.
3. InSights Training Center
Located in the Pacific Northwest, InSights Training Center boasts a training cadre of multiple instructors, and teaches classes that range from Defensive Folding Knife all the way to advanced pistol/rifle/shotgun classes. Their instructors are competent, professional, and most importantly skilled at teaching. In fact, InSights as a school excels at making their subject matter interesting and accessible, regardless of the course. They could make a two hour class about tying your shoes interesting.
4. Academi
Formerly known as Blackwater, to the general public the name meant "mercenaries" they also have always maintained a robust training school. Their facility in North Carolina is absolutely top notch, and Academi also has facilities in Connecticut and California that offer instruction as well.
5. Universal Shooting Academy
Universal Shooting Academy is located in central Florida, and in fact will be the host site for the 2014 IPSC World Shoot. This is the home range of multiple USPSA Grandmasters, and they all teach classes. If you're looking to up your pistol gaming skills to the next level, head down to USA in Frostproof and take one of their pistol classes. Just don't do it during the rainy season…
The final word on training comes from famous actor and mustache Tom Selleck. He went to Gunsite. You don't think you're better than Tom Selleck, do you?