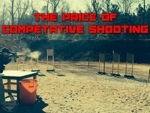 Does expensive gear make you a better competitive shooter? We've all seen that guy, rolling up in a zombie hunter H3, is always buying guns, but never actually goes to the range to shoot. It's easy to get into all the gear, especially in 3Gun, but knowing how to use it is key when the buzzer sounds. Should a beginner spend a few thousand on their first long gun so they can get into competing or just a few hundred and then dive into training? Extended controls and low drag whatsits may make a person appear knowledge-able, but will they shave seconds off your time, like they do for the pros?
The guy in the H3 (from earlier) doesn't even know how to field strip and clean most of his guns. He doesn't hang out and talk guns at the range, because he doesn't know anything more than what the sales guy tells him. A beginning competitor with H3 guy's bank account could do some serious damage on the 3gun web sites. Unfortunately, once that beginner got into shooting matches, half that gear would never be touched again. The reason is, different methods require different gear and until a shooter knows what method is best for them, they shouldn't commit to any particular gear.
But this system of trial and error is a lot more difficult with guns. Modifications WILL help a competitor's time but many can't be done at home and they can also add cost to that already pricey gun. Yet, even a new shooter can benefit from certain mods. So here's what me and Jana Reeves (Pro 3 Gunner for Team Noveske) came up with the weekend: Hobo Division Just show up at a 3 gun match with whatever gear you've got, bum at least 50% of your gear from others, and shoot the match. I think it could turn into a thing!