In Thursday's Tactical Wire (03/06/2014) Tiger McKee is talking about mastering the revolver trigger. It's a very good article, so I've linked it. However, there's one thing Tiger says that I just don't get, and I want someone to explain this to me:
You should not be walking 'round inside your home in the middle of the night with the hammer cocked. However, having said that, there have been and will be situations when the solution is to fire in single-action so it is something that should be practiced. (emphasis added)
WHEN? Seriously, this is something that drives me nuts, because every person who says that I shouldn't bob the hammers on my guns brings this up. But no one has ever presented a situation where using the SA function on a defensive revolver is a better idea than practicing with the DA function.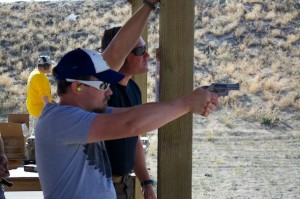 So, let's see when you'd want to use the SA function: you have to make a tight, precision shot on a partial target? Okay, so why not practice tough shots in DA mode so when the time comes you don't have to cock the gun? Or learn to stage the trigger for those really tough shots? I seriously don't get it.
Am I just out to lunch here? I mean, in matches (which I know aren't the real dynamic operations of the streets) I make tough shots all the time in DA mode. So does every other serious revolver shooter. If I had to take a shot "for realsies" with a revolver, I'd take it DA. So maybe someone can explain to me what these super-secret situations are where you'd be better off shooting single action? Practicing DA mode so you don't need to use SA for tough shots seems like a much better solution.
But then again, I'm just a competition shooter, so I don't know anything about real fighting as done by warriors. Also, please don't take anything in this article as disparaging Tiger McKee, I think he's a rad bro and would totally take a class from him. I just don't understand the whole "you might need SA so you should practice it" comment.