School of thought number 1: "This gun is always the best and if you buy anything other than this gun you're dumb and stupid.
School of thought number 2: "What works for me is best and you have no right to tell me that things are better than my choices because I'm a beautiful individual snowflake."
As it turns out, both of those schools of thought are stupid. First, we'll address school 1. This operates on the premise that all situations are roughly identical. It takes the concept of "this gear is generally better" and takes it to the extreme. It's how you end up with toolbags saying "All guns should be Glocks and all Glocks should be Glock 19s." It's a close minded way to recommend gear to people, because let's be honest, people are different. I have different sized hands than you, and different levels of strength, vision, etc.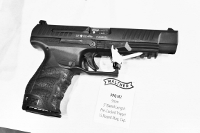 Unfortunately, school of thought 2 has come into existence as a negative reaction to school 1. This is where people will justify buying shitty gear because "it works for me" and use that as justification for why they have garbage kit. This is also stupid, because it operates off the assumption that "works for me" is the end goal, and that better kit couldn't possibly work better than whatever clownshow of optics and dog-leash slings you've assembled on your gun.
Fact: Some guns are better than other guns.
Fact: People are different.
School 1 believes that because some guns are better than other guns, than those guns are always the right answer. School 2 believes that because people are different, it's okay to buy garbage because you're a pretty individual snowflake. They're both wrong.
Let's look at a Joe Gundood. Joe wants a gun for concealed carry. School 1 says "Get a Glock 19 or an M&P, if you get anything else you're dumb." They might be right, because Glocks and M&Ps are good choices. School 2 says "Get whatever feels best in your hand and works for you, because just because all those really smart people like Glocks and M&Ps doesn't mean those are best."
School 1 gets hung up on maximizing performance, and School 2 gets hung up on being a snowflake. So how do you balance the two? Well, Joe Gundood discovers that he really doesn't like Glocks. For whatever reason, he just thinks that they suck. But he really wants a striker fired, double stack gun, so he ends up buying an M&P Compact. Joe Gundood made a good decision.
For the School 2 people, there is still room for individual expression inside the envelope of quality products. Here's a short list of handgun manufacturers that all make products I have or would carry:
Glock
Smith & Wesson
Ruger
Sig Sauer
Beretta
Colt
Springfield Armory (yes, even the XDm)
Kahr
HK
Walther
In those brands there is plenty of room for personal expression. Want a striker fired gun? Glock, S&W, Springfield, Kahr and Ruger make guns. Want a hammer fired DA gun? Sig and Beretta have you covered. Want a 1911? Colt or Springfield. Want a wheelgun? Ruger or S&W. The point here for school 2 is that there's no reason to carry garbage. If you're justifying your Kel-Tec PF9 purchase because "it works for me" than what you're really saying is "I was too cheap to save up for a better gun."
For School 1, the reminder here is that just because you carry a Glock 19 appendix every single day doesn't mean that's optimal for everyone. Some people want to carry behind the hip with a DA gun in a leather holster, and as long as they buy quality gear, it doesn't matter.
Moral of the story for both schools: everyone should buy quality gear. I like wheelguns and DA/SA autos. Just because I like those doesn't mean they're the best choice for everyone though. However, just because "they work for me" doesn't mean I went out and bought some cheap Eastern European wheely. I bought the right kit.