One of the things I really like to see is major firearms manufacturers sell spare parts directly to you. Beretta has added a comprehensive spare parts section to their website, including some common upgrades that shooters do their 90-Series pistols. Here's the full page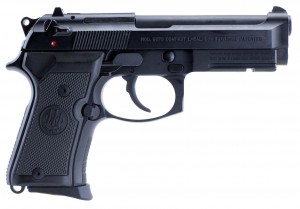 Why is this important? Because when a company starts selling spare parts, they're saying they understand that some of their consumers are serious shooters who will actually shoot their guns enough to warrant the spare parts. That's a good start, but Beretta takes it a step further by actively embracing the competition/defensive community with some of the parts they're selling. Here are three examples:
Steel trigger and "D" hammer spring – One of the most common mods to Berettas by serious shooters is to replace the factory mainspring with the "D" mainspring for a lighter trigger pull
Skeletonized hammer – Another modification for faster lock time is a skeletonized hammer
Oversized magazine button – What do competition shooters do a lot of? Reloads. An oversized magazine release makes reloads a lot easier.
Also on the new accessories website is a comprehensive list of holsters for duty and for competition, including a straight up Ghost Holster. It's nice to see Beretta really embracing the competition shooting world and making these parts available for shooters who really want them. If you're looking for a Beretta to get started in competition shooting, I'd recommend taking a look at the 92A1, because it has an interchangable front sight. However, the stock 92 with its fixed front sight would also be an excellent choice, because you can change out the rear sight for an adjustable sight and then simply black out the front post.
The real point of this post is simple. We spend a lot of time calling out bad behavior in the industry, so it's just as important to call out good behavior. Beretta USA making the decision to stock and sell spare parts and competition upgrades for their guns is a cool thing to do, and I'm glad to see they're doing it. Hopefully the trend will spread to other companies!