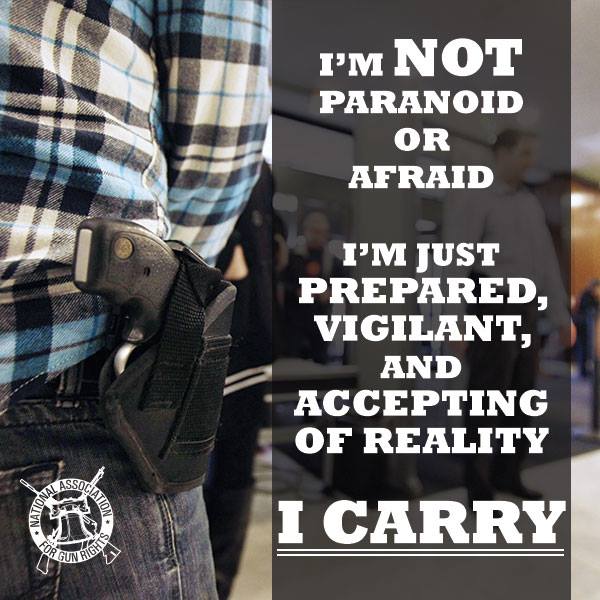 Why is it that whenever someone does an advertisement supporting carry, the image is always some soup-sandwich dude with a Taurus in a flappy nylon sausage sack of a holster? Seriously, that is probably the worst holster I've ever seen, and for people who are serious about carry it's kind of insulting for NAGR to represent us with that image.
I understand that not everyone is going to carry a Glock in a Raven holster, or a Colt 1911 in a sweat leather holster. But I just can't imagine the pitch meeting that resulted in this ad. Here's how I imagine you end up with that holster. The scene is with a dude walking into a gun store…
Dude: Sir, give me your finest holster for concealment!
Gun Store Employee: Okay, that'll be $80.
Dude: Give me your five dollar-ist holster!
It's just awful. The holster is actually a bad design, it's not just ugly. It has the added bonus of being dangerous! First, look at the distance the butt is out from the body. That means where the holster attaches to the guy's not-a-gun belt is weak, allowing the grip to flop out. Grip flop means the holster will snag on stuff. Sweet.
Secondly, the retention mechanism is terrible. While I do applaud him for open carrying with an actual retention holster, there is no way he'll be able to deactivate the retention on that holster in a hurry, because it's a left handed holster. Seriously, on those terrible "strap the gun in" designs, a right handed shooter should have the button on the outside of the holster so you can attempt to unbutton it as part of the draw motion. This guy has his retention button on the part of the holster facing his body, ensuring that it's going to be a painfully slow process if he does need to unlimber that .38 in an emergency.
Ultimately, what bugs me the most is the the National Association for Gun Rights, despite being a 3rd tier organization should know better. Was there not one serious gun guy who saw this ad before it ran? How come no one internally said "whoa, guys this is a total soup sandwich. Let's fix his gear up a little bit."
Seriously, an XD in a SERPA would be an upgrade for this ad. NAGR, I award you with a D-. See me after class.