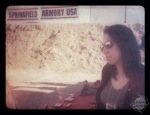 Last year at Media Day at the Range, I made a bee line for Springfield's bay where I fell hard for the XDs 9mm. Truth be told, I was primed to love the 9, since I had been very impressed with the 45 months earlier. This year I wasn't expecting any major announcements, but what I found may become the sleeper success of 2014. Meet the XDs 9mm 4.0. In comparison to last year's release, the 3.3, this one has a longer barrel… (4.0″ vs. the original 3.3″) That's about it. But, as we all know, that really isn't it, that's actually the tip of the iceberg.
While a nice slim body still makes the XDs highly concealable, the longer barrel brings more accuracy and the longer sight picture gives, well, even more accuracy. I still love the standard red fiber optic front sight, and the trigger is crisp (the right trigger for a CCW), but now a pinky extension on one of the two included magazines, turns the 4.0 into much more. I know we always say, "the right tool for he right job," but I think Springfield may have actually killed too birds with one stone.
Without the pinky extension the XDs 4.0 is a more accurate concealed carry, with a bit less recoil. With the extended mag, the gun could be used for a beginner with small hands and as a pretty satisfying regular shooting target gun. I'm really impressed with the 4.0. Especially since it has been this balance that has eluded so many in the past.