During last year, we ran sporadic updates called The Colt Report; bringing reports to you semi-regularly about the performance of a particular Colt 1911 CCG. You can see past reports here. The updates stopped when the test stopped, but looking at my notes I realized I hadn't published a final update.
Here is the Colt Report: Final Update. We'll start first with the vitals on the gun.
440 Stats
10,227 Rounds fired
5 stoppages
Broken parts: 0
Cleanings: 6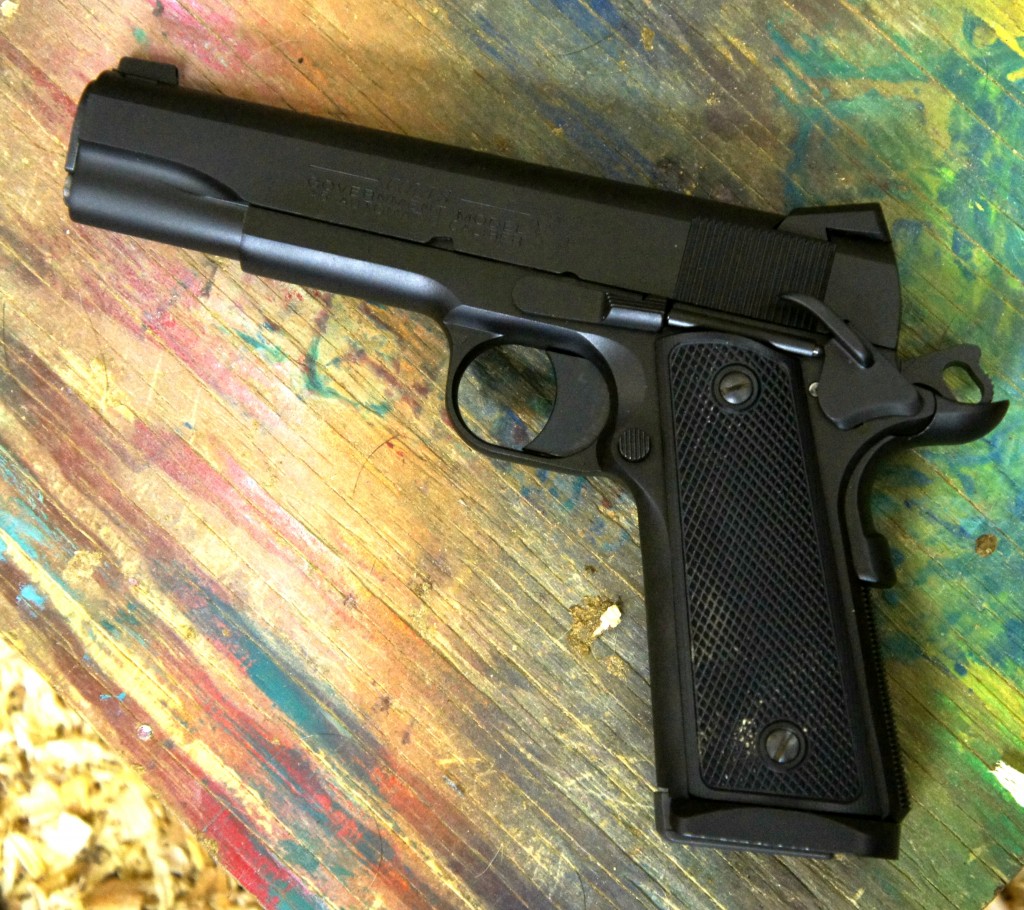 In the last 3,000ish rounds, the gun had another stoppage, a round of 230 grain Ranger JHP failed to feed out of an otherwise reliable Wilson Combat magazine. During the entire test, the gun never broke any parts, although it did need to be completely refinished after the shooting season. Prior to that refinishing it was detail stripped and cleaned. How is this Colt CCG different from the model you can buy from Colt? Here are the part changes:
Grip screw bushings changed for full size bushings
Grips changed to Techwell grips
Ambi-safety added
Series 80 parts removed
Cylinder & Slide sear, disconnector, and leaf spring installed
Gun refinished by H&M with their Black Nitride finish
Magazine release button swapped out for part of unknown origin
Wilson Combat bulletproof extractor installed
Metal MSH added
It's had several spring changes during this time as well. The action has been professionally tuned to deliver a 3 pound trigger pull, which is light enough for competition without sacrificing safety if I needed to press this gun into duty as a CCW piece. The reason for many of the parts changes listed was simply to make the gun more "competition" ready. For example, the factory Colt grips are wood, and very slim. Adding the Techwell grips for the extra traction and magwell made it harder to reach the factory mag release, so an extended mag release was added. The grip screw bushings were changed because Hilton Yam made fun of me.
I really came to love this gun last shooting season. She rode with me through a turbulent season, winning a USPSA Sectional, missing goals at Bianchi Cup, slogging through the mud at Area 3, drenched by hurricanes at the ProAm, and my first USPSA National among other things. It's a great gun, and if you're looking for an IDPA/CCW 1911 for around a grand, get the Colt CCG. You won't be disappointed. Quite honestly, the only complaint I'd have about this gun is that the factory finish is really rust prone. Loyal readers will recall facebook posts of me scrubbing surface rust off my gun, which is ultimately why I sent it to H&M to get black nitrided.
The gun was quite reliable. 5 stoppages in 10,000+ rounds gives a MRBF of 1:2000, which is where I'd want a semi-automatic pistol to be. I'd like to thank the following companies for their material support that made this test possible:
Colt
Blade-Tech
Federal Ammo
10-8 Performance
I'm certain I left someone off that list, and for that I apologize. 2013 was a bit of a whirlwind, and shooting this gun was a blast. By far, it made me appreciate the amount of time and effort that goes into keeping a good 1911 up and running.
If you have questions about the gun that I didn't answer in this post, let me know in the comments.