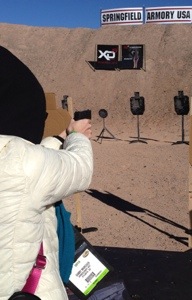 I remember a few years ago when the general public couldn't get their hands on the Smith and Wesson Shield but every woman I spoke to was convinced it was the gun for her. Since then a few new pocket pistols have come out each year and I have seen the same dance repeat. Many times, the women who are clamoring to buy one of these tiny gun, have never pulled a trigger in their lives. Now I see Glock getting in the game, and I cringe thinking, it's all down hill from here. Don't get me wrong, I'm thrilled to see the growth of women's concealed carry options, and I realize these guns are not purely being marketed to the "hot new" female market of the firearms world, but I wish these offerings could be hidden from new shooters, until they weren't "new" any more.
New female shooters almost always oogle the tiny handguns in the sales case, assuming those are what is best for them. It's amazing how quickly, some time on the range, has them singing a different tune. The small guns hurt their hands and they tend to feel like they can't control them, thus being inaccurate. These gals need to build they gun confidence before they dive into the questions, "What should I buy?" and "What should I carry?"
And even once they've got their first gun class under their belts, they are rarely prepared to explain their likes and dislikes when it comes to concealed carry. Unlike cars, guns rarely have a try before you buy option. Sure there are rental counters, but pocket pistols don't tend to hold up well under rental use. So when a new shooter begins to consider gun shopping, how can they know what they will feel comfortable shooting once they are no longer "new".
Announcements like Glock's 42 and Remmington's Model 51 should get all of us excited, (at least until we can shoot and review them) but I wish new shooters could just slow down!