The big news today is the launch of the Remington Model 51, a single stack 9mm designed for self-defense and concealed carry. Big Green's pistol division, based out of North Carolina is dropping the first original pistol design from Remington in…quite some time.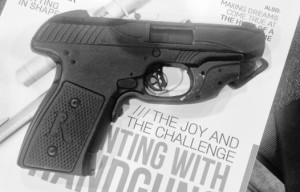 Here are the vital stats on the gun:
Weight: 20 ounces
Operation: Single action, delayed blowback
Barrel length: 3.4 inches
Capacity: 7+1
MSRP: $389
I first saw this gun in November at NASGW. One of the first accessories available for the gun will be a Crimson Trace LaserGuard, which you can see depicted on the mock-up pistol in the image. I'd like to say that I'm cautiously excited for this pistol, simply because it's nice to see something new on the market when it comes to defensive handguns.
As with any new gun, the most important factor in success will be availability. Remington has already said that the new Model 51 won't ship until February, but when it does there should already be holsters available from big name manufacturers such as Galco and Comp-Tac. It remains to be seen if Remington will be able to ape the success of Ruger or S&W when they launched the SR9 or the Shield – guns were shipping the day of the announcement in those cases, eliminating the potentially dangerous enthusiasm gap.
Truth be told, with an MSRP of under $400, I can't think of a good reason to not buy the Remington Model 51, even if just for curiosity's sake. A single stack, single action defensive pistol with an aluminum frame and an internal is so obscure it's practically wearing thick rimmed glasses and a mustache. Perhaps the intended market of the new Model 51 isn't gun enthusiasts, but rather gun hipsters. "My carry gun? Oh, it's a Remington 51, you probably haven't heard of it."