In the comments on the Super Security Six post, a couple of people have asked why I'd convert the gun to a true DAO wheelgun. For the purposes of this post I'm only going to talk about revolvers used for self-defense and competition; large caliber magnum revolvers used for hunting are excluded.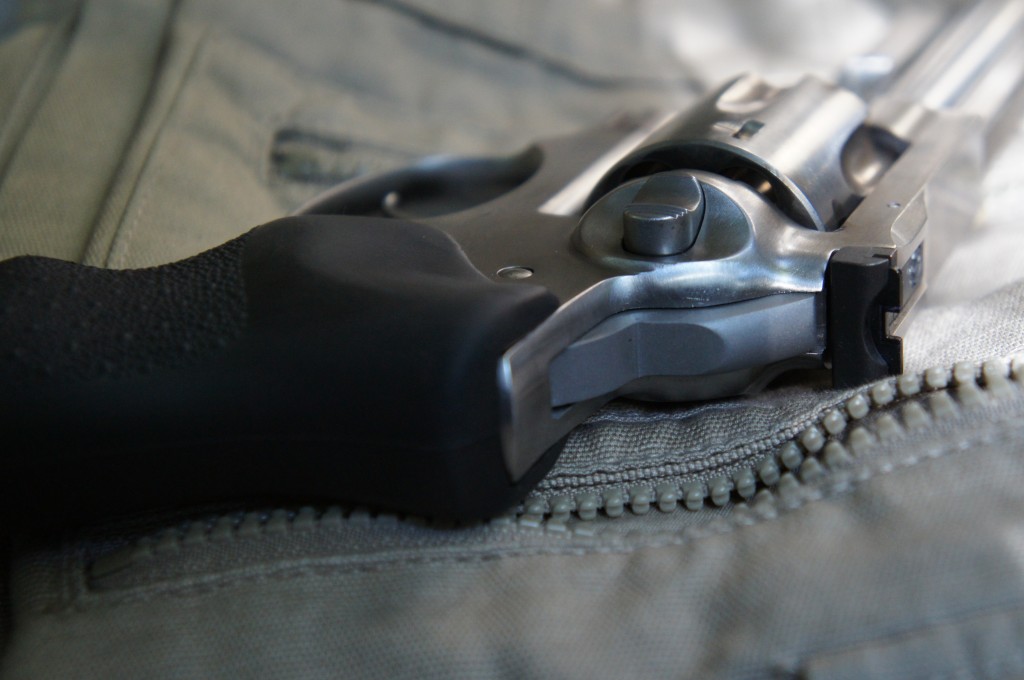 For a competition/defensive revolver there are number of considerable benefits to having the hammer bobbed and the gun converted to DAO. The first thing to note is that single action is basically worthless in competition, and is also pretty worthless in a defensive gun. You absolutely need to be able to shoot your revolver in DA if you're going to fight with it, or if you're going to compete with it. So since you'll never use the SA function on your gun, you can simply delete it.
There are a couple of sound reasons for deleting the SA function of a competition/defensive gun. The first advantage is eliminating hammer bite. I have large hands, so when I'm gripping a revo I get as high as possible on the backstrap. With the hammer on a gun, I can actually bite my hand during DA shooting. Eliminating the spur eliminates that problem entirely. Once you've bobbed the hammer, you can then eliminate the SA notch on the gun entirely. This actually smooths out the DA pull a little bit more. It's not a huge difference, but once the hammer spur is deleted, it makes sense to convert the gun the rest of the way to gain the incremental benefit.
Another benefit of removing the DA function of the gun is an alleged increase in reliability of ignition. The theory is based on maths which I don't completely understand, but has to do with the force imparted to the firing pin by the hammer. As I understand it, if you take two springs of equal weight (10 pounds) they're using that energy to accelerate the hammer. A hammer of lighter weight will accelerate faster and to a higher speed than a heavier hammer if being driven by springs of equal weight. More hammer speed = more force hitting the firing pin. Science!
Ultimately the best reason to remove the SA function from a competition gun is to remove the temptation. Shooting your guns in single action for defense and competition is bad and creates poor habits, so just get rid of it entirely.