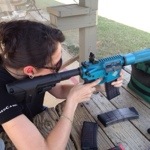 When I began building my AR, I swore that I'd never be one of those losers who was caught without a front sight tool. However, I wanted a tool that would stay in my range bag all the time (so there would be no chance of forgetting it) but wouldn't cost an arm and a leg.
Having already stocked up on a little folding knife that gets clipped to my jeans daily, I didn't feel the need for a big do-all product, but as you can tell by my AR build, sleek design was very important to me.
All these requirements led me to Leatherman's Rail. It's the perfect mix of skelitonized minimalism and coverage of a shooters need.