Stop me if you've heard this one: "You shouldn't use projectile XYZ because it will punch through the badguy and kill a bystander behind him." It's a common saw of gunshop logic, and yet you'd be hard pressed to find a verified report of it actually happening. Even in cases where projectiles exit the target human entirely, good luck finding an instance where a handgun bullet passed through a person and killed a bystander behind them outside of Indiana Jones. So is this all Hollywood myth, or is there a kernel of truth to old gunshop saying?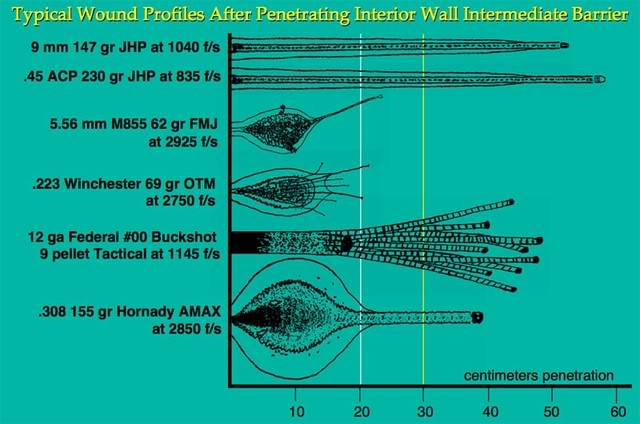 Well, as it turns out there have been documented incidents in the late 80s and early 90s of people getting killed by bullets that had passed through another person. When reporting on these incidents, you have to bear in mind that the bullet technology of the time wasn't nearly as advanced as it is today, and a JHP round of that era could be easily plugged by heavy clothing. This would result in it acting like an FMJ round, which means more penetration.
Yet even then, incidents of fatalities caused by over-penetrating bullets are extremely rare. It's just not something that happens a lot, and there are two good reasons for that. The first reason is that shootings are statistically rare, despite what the anti-gun lobby would have you believe. People just aren't getting lit up all the time, and when gunfire is exchanged it is frequently done in places without a lot of "other people" standing around gawking. There's a low probability of getting into a shooting, and an even lower probability of getting into a shooting in a really crowded place. The math just isn't in favor of overpenetration injuries.
The second reason is also important – the human body is an amazingly resilient structure. Combine that with the relative lack of power that handgun bullets deliver to their target, and "shoot-throughs" that have enough energy left to hurt another person become even more rare. Perhaps if you're talking about rounds through extremities that don't contact bone, sure. But good hits in the upper thoracic area? Those would have to penetrate the sternum, a bunch of internal organs, and then come out back through the ribs or spinal column, all while maintaining enough energy to wound another person. That's…highly unlikely.
The Gun Nuts Bottom Line: While there is some concern of overpenetration with a handgun cartridge, your primary concern should be that your defensive round of choice will have sufficient penetration to reach vital organs and cause incapacitating blood loss in an attacker.