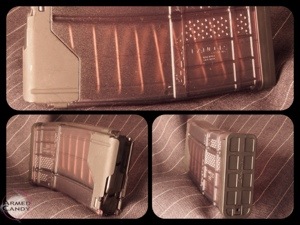 I used to hear all sorts of crazy things from behind the counter at the shooting range. Often, I would only catch parts of conversations, which, as you can imagine, made some snippets sound even more obscure. One such odd tidbit, that has stuck with me many months later, is,
"Eww! You like clear rifle magazines?! What are you!?! European?!!"
Since hearing this, I have been curious, as to why any one would dislike transparent magazines. As I began to shop for parts for my new AR 15, I noticed that Lancer L5 magazines were available in "smoke", while any other polymer mags were over priced, or impossible to find. I appreciated the semi-transparent look of these magazines, because I felt that black, would look far more harsh against my turquoise girl gun. I liked the ability to see how many rounds I had loaded at a glance. Also, they were being sold by a reputable web retailer, so I reasoned, if I tested one and didn't like it, I could just return it.
I still can't figure out what someone would have against transparent magazines. However, after running the Lancer L5 magazines with my new AR, for a few months now, I've decided that the conversation I overheard, must have been referring to some OTHER translucent magazines. The Lancer L5 Advanced Warfighter (aka L5 AWM) are fantastic. At first I thought it great that the translucent body would, more easily, allow me to see the loaded round count, but what makes translucent polymer better than any magazines with a window? The user can see what kind of round is loaded, not just how many. BONUS!
On the outside, the Lancer mags offer an intense texture for easy gripping and (for me) they have always dropped free from the gun. Inside, they have given me jam free feeding and are easily taken apart to be cleaned. One of my favorite features of these magazines, while everyone else is putting covers on their loaded polymer magazines to keep the pressure off the feed lips, my Lancer mags are, "pack and go". The coated steel that wraps around the magazine and forms the feed lips, handles anything tough handling can through at them, including, being stored fully loaded.
I've now collected a few of the L5 AWM translucent mags in "smoke" in multiple round count sizes and will be on the hunt for a few more. However, prior to posting this review I did I little search, and I have to warn you, the secret is out (and so is stock). Sorry. The one site where I have found a few 30 rounders, and at a good price, is Rainier Arms.