Another year in the books for Steel Challenge, and this one will definitely be remembered by shooters at least as the soggiest Steel Challenge in memory. 105 shooters braved the constant Florida afternoon rains, many of whom were also coming off a similarly rainy ProAm match. This year's Steel Challenge saw some changes from previous year's matches – gone are the impact stop plates or flight time calculations; this match was run on straight time. Your last shot fired that strikes the stop plate is your time. This means that all the old world records are out the door, as those were based on impact plates. Before we continue a discussion of the match though, here are the results from every division.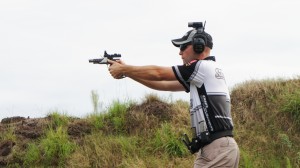 Steel Master
BJ Norris
Open/Overall
Max Michel
BJ Norris*
KC Eusebio
*BJ actually finished 2nd and 3rd in the overall. His Limited time with his iron sight gun was actually faster than KC's open time. Additionally, he shot his Limited gun during the Open match due to an equipment failure on his open gun.
Limited/Iron Sight
BJ Norris
Dave Sevigny
Manny Bragg
Production
JJ Racaza
Muneki S.
Frank Garcia
IPSC Production
Frank Garcia
Augusto D
Jason Koon
Revolver
Elliot Aysen
Molly Smith
Annette Aysen
Single Stack
Craig Underdown
Caleb Giddings
John S.
Women's Division
Jessie Duff
Kaci Cochran
Randi Rogers
Rimfire
Max Michel
BJ Norris
Dave Sevigny
Those are you 2013 Steel Challenge World Championship 1st-3rd winners. This year was an interesting match, because due to a scheduling conflict with the MGM Junior's Camp, it had to be moved to Wed/Thur/Fri instead of the traditional Thursday-Saturday format. The move to an all weekday format no doubt affected the number of shooters in attendance at the match, as did the dreary Florida weather forecast.
It's difficult for me to write this, because I feel very strongly about Steel Challenge as a match. Like Bianchi Cup, it's a historic match in our community. It goes back to the very early days of the practical shooting sports. That's why it saddens me to see such a low attended match this year; down even from last year. Steel Challenge as a match is now in the same position that the Bianchi Cup was in back in the early 2000s, before NRA brought in Tom Hughes and saved the match. That's what Steel Challenge needs now – a shot in the arm from a charismatic leader and organizer, someone who will galvanize supporters and sponsors for the match, and breathe some much needed life back into what should be one of the greatest shooting championships in the nation.