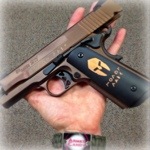 Saturday was a busy day for me and meeting new guns. I got to fondle a Sig 1911 Spartan, and dream… But I also got a first look at a very new brand and their new concealed carry offering.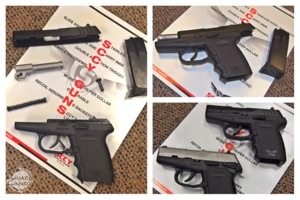 The company is called SCCY (pronounced Sky) and they are based in Florida. The local rep and his daughter were at the range for National Take Your Daughter to the Range Day, and one of the league women came out of the range to tell the rest of us about the gun the man was shooting. She said it was incredibly light and barely bigger than her new XDs 9mm that she was wearing in a belly band that day (for practice). She said that while it was light weight, the man's daughter (approximately 11 years old) was handling it like a champ. This woman takes her new hobby of shooting, very seriously and has thrown her self, head first, into IDPA as well. So when she said it was a brand she had never heard of, I was very surprised. When she said "SCCY" I was even more surprised that no gun nut in the room had heard of them either. I then broke out my phone for a quick "Bing" scan, (I no longer default to Google due to their "anti-weapon" policy). Upon arriving on the SCCY website I cringed and told the room the suggested retail price. They cringed as well.
Back when I was behind the counter selling guns, I used to share a little piece of advice with first time gun buyers, "Put aside about $500 for your first pistol, you may spend a little more, or a little less (you can always spend leftovers on ammo) but buying a firearm is not the time to go bargain basement shopping." Having shot numerous pistols meant for concealed carry, plinking, law enforcement, competition and home protection, I continue to stand by this philosophy (at least for the entry level shopper). SCCY's base model price is $299.00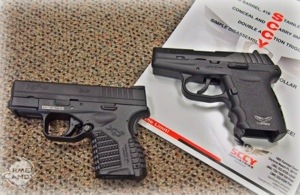 With a few more seconds of research, I read two opinions on two different sites, the first was a review by a gun blogger who said he didn't think SCCY was a good quality, but if one wanted a budget pistol, they should consider a Hi-Point. I stopped reading. The other site was a forum were a gun store owner was less than thrilled with the SCCY product. He complained that almost every one sold had been brought back to him with major malfunctions and that the brand's customer service department had been less than eager to do the necessary repairs. One major issue he highlighted was broken guide rods, and I agree, such an issue should be considered major. However, when he would call SCCY to report the problem, they would blame the customer for installing the guide rod back words. As I read this, I couldn't figure out how such an operator error could occur…how would they be able to reassemble the gun after reversing the guide rod?
The rep and his daughter finished shooting and came out to chat with us. I handled the CPX-2 CB first. (Of their four models, the "-1" indicates a manual exterior safety, that the "-2" lacks.) For a small gun the grip was solid and comfortable. The holes along the back of the frame, I assumed, were for clicking on backstraps. However, as it turned out, they are there to build up the material for a more positive grip, without adding extra weight. They also, supposedly help with recoil, though I'm skeptical of this particular claim. The black finish on the slide, the rep told me, is more popular, and I think I too, would prefer it over the non-reflective stainless, but only for the sake of conceal-ability. The sights on the slide are small, but sufficient for day time use. Each pistol comes with two 10 round magazines that each have a pinky extension. This is a big improvement from most 9mm pistols meant for concealed carry.
Since I was not going to shoot the CPX-2 that day, the most important thing I did, was feel the trigger. It's a double action only, shrouded hammer style weapon, and frankly, if I had to chose, I would prefer a Glock trigger straight from the factory. It was fast in places that one would want a controlled movement and heavy when I wanted to feel the break. The best word I can come up with, is sponge. The rep agreed, that this was not a trigger meant for enjoyment, but for firing at close range, defensively.
I did enjoy watching the man's daughter do the take down on the little pistol. It was quick and easy. The barrel felt too light to function, though its made of the same 416 stainless steel as the slide. The frame, because it is predominantly polymer, was also exceptionally light. All the weight of the gun is clearly in the slide, the double springs on the guide rod, (and I guess, a loaded magazine) but when compared to the XDs 9mm it just didn't seem right. Once the gun was in pieces I decided to try my hand at reassembly. As if it had been planned, I confused the ends of the guide rod and dropped it in back words. It was obvious something was wrong, so I doubt I would have finished reassembling with the mistake in place, but I can see how confusion could occur.
According to the representative the company is very proud of their US made product and that they were able to keep the weight and the price way down. They're warranty department, it seems, is currently twiddling their thumbs, because they boast a 48 hour turn around. I'll be thrilled if there is another concealable 9mm on the market that is easy to shoot and well made. I won't pass judgement until I've had some serious trigger time. For now, I'll stay wary.