So you want to shoot a 1911 in competition? While many people regard Production as the division most friendly to factory guns, Single Stack and CDP are equally friendly to guns that come straight from the factory. Most major 1911 manufacturers make some competition ready guns right out of the box, and many more models that need one or two minor tweaks to be ready. Let's look at some of the features we want on a "competition ready" gun so we can narrow the list down.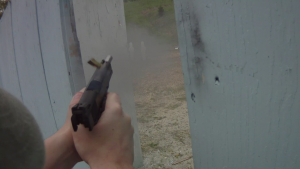 Sights
Good sights are a must for a competition gun. If your gun comes with 3-dot sights, rip those suckers off and put some 10-8 or Sevigny sights on there. However, a lot of 1911s come from the factory with a Bo-Mar style adjustable rear sight. Examples of 1911s that come with good sights are pretty much anything from STI, the Colt CCG and Colt Special Combat Government, and the Springfield Range Officer and Trophy Match. Recommended aftermarket sights for guns with Novak sight cuts are Sevigny sights and 10-8 Performance sights.
Magazine well
Reloading 1911s in a hurry can be less than fun. Unfortunately, not a lot of factory guns come with magwells, but a few do. The aforementioned Trophy Match from Springfield and Special Combat Government do come with magwells, but a lot of the other recommended guns don't. Luckily, getting a magwell on the gun is usually just a matter of deciding how you want it to attach, (mainspring or via the grip panels) and then putting it on. Hogue and TechWear USA make some really easy to attach magazine wells, or just buy a gun that comes with one. The STI USPSA model is pretty much ready to party out of the box.
Little details
This is where things can get really nit-picky. Do you want a full length guide rod? Do you want front strap checkering, forward cocking serrations, an undercut trigger guard, a rail, tactical blender, flat trigger, and the list goes on and on. This is where when you're shopping for a gun all the different details can get overwhelming, and a lot of it comes down to personal preference. For example, I don't like full-length guide rods, but I do like undercut trigger guards. I generally don't like front strap checkering because it's frequently done wrong, and doesn't do anything I can't accomplish with skate tape. But that's all personal preference.
If you want to buy a factory model, here are three recommendations that are readily available to the public, and my recommendations for what you need to change on them.
Colt CCG 1911: Street price is right around $800. You'll need to change the stocks and add a magwell. I've also added an ambi-safety and some skate tape.
Springfield Range Officer: You'll need to change the stocks and add a magwell. I would also ditch the full-length guide rod.
Colt Rail Gun: If you want RAILS on your gun, this would be my first choice. You'll want to change the stocks (again) and add a magwell. You'll also want to ditch the 3-dot Novak sights.
STI Spartan: Again, grips will need to be changed and you'll need a magwell, but the Spartan is pretty well set up out of the box.
We've already covered holsters, and with the goal of keeping the price right around a grand, any of those four guns would probably be a good choice. In the interest of full disclosure, I am sponsored by Colt and they have provided me with a pair of Colt CCG pistols for long term testing and evaluation.