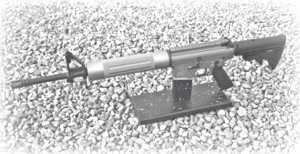 When I told my friend, back in December, that I was ordering my AR receivers, he laughed and said, "Good luck finding a lower parts kit!" Another friend, who had started his first build six months earlier said, "Ha! You picked a heck of a time to start!" For all intents and purposes, both of them were right. Since the beginning of this year, inventory of guns and gun parts has been exceptionably low. You can't visit a single web-gun-store without seeing multiple "out of stock" labels. This is especially true of .223/5.56/AR-15… everything.
Therefore my friends' concern for my project made sense, but as it turns out, they were wrong. My lower parts kit, ordered in January, came in before my receivers, though I wouldn't call early April, speedy delivery. Everything else has required a hunt, but as a first time builder, I believe this was the best possible scenario. Before you call me crazy, read on.
I ordered AR receivers because I feared that if we all lost the opportunity to have one for ten years, I would regret not owning one when I had the chance. I bought parts, rather than a completed rifle, because I wasn't convinced I even wanted the gun, even as I was placing the order. I figured, if I never built out the receivers, that'd be fine too. I also saw the marking-up that was going on in gun stores, and I had no interest in paying the inflated prices, of December 2012.
However, as my parts arrived, my excitement began to build. I spent more and more time discussing favorite brands and parts with friends, and researching different companies and products. Because I ran into a ton of "out of stock" labels, I spent a lot of time reading and searching for alternatives. To my surprise I often discovered that the part that I had originally been hunting and couldn't find in stock anywhere, was actually not the best option for me anyway. Small, unknown brands became my favorites, and forum threads were some of my favorite places to gain insights.
Sure I could have built an AR without knowing the difference between gas system lengths and barrel twist ratios, but I think I am building better (and smarter) now that I am aware of these details. I also supported small businesses by buying from them and promoting their products, and that makes me proud of our free market. Am I right 'merica!?
So now that I'm pretty much done shopping, here are a few companies that gave me a great shopping experience:
Be sure to tell them that ArmedCandy & Gun Nuts sent you!