One of the cool things I had the opportunity to take a look at while wandering the floor at the NRA Annual Meetings this past weekends was Cabot Guns'South Paw 1911. Being a left-handed shooter is becoming easier, as firearms like the M&P and many AR platforms are rolling out ambidextrous or easily convertible options. However, finding a good 1911 has always been somewhat difficult.
The ambidextrous safeties that many manufacturers offer on 1911s as a way of making them available to left-handed shooters are prone to breaking and a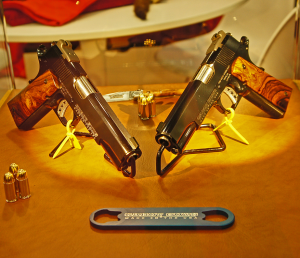 re more easily flipped off by accident when the gun is in the holster. Cabot took the 1911 platform and completely redesigned it from the ground up to provide a reliable and easy-to-use 1911 for left-handed shooters, even the rifling in the barrel has been mirrored.
At the NRA Annual Meetings in Houston, Cabot had several of these left-handed 1911s on display and they are extremely good looking guns. With wood grips and many custom options the top-tier left-handed gun is a cool piece to have, but you have to be ready to pay for it, since MSRP is at $5,750. With that kind of price point most of us will have to settle for drooling over them at booths at the NRA Annual Meetings.