I am kind of stupid for .410 shotguns. I did a post (that's currently missing from the archives) about the excellent Mossberg 500 .410 a while ago, and with that did some ballistic testing on various .410 projectiles. The results were pretty interesting, with certain .410 buckshot loads exceeding the FBI standards when fired into gel.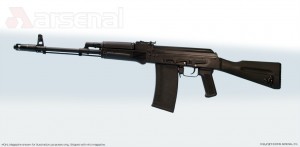 So imagine my joy when received a shipment of Arsenal .410 AK pattern shotguns in at GunUp. Let's see, impractical, awkward to operate, takes weird, expensive mags that are hard to find…yep, this is exactly my kind of stupid.
The best part is that I don't even know if the thing runs well, and I'm almost certain that it won't run for beans with one of the 30-round ProMag drums that I also have in stock. But like the VZ-58 last week, there's something about a .410 AK that tickles my "stupid gun lust" pretty successfully. I can run my pump Mossberg .410 very quickly; and having a semi-auto .410 just makes me happy in all sorts of stupid ways.
Of course, I think a big part of it is the hunting out here in South Dakota. I really, really want to go pheasant hunting with an Arsenal .410 set up with an Aimpoint Micro. I also want to shoot skeet with that same set-up. Because honestly, I think it would be hilarious, and would also quite likely cause some of the "wood and blue steel" shotgun crowd to have a stroke. Especially if I hit anything with it.
You can see it in your head now, right? "Pull!" Bird goes flying, I fire one shot and miss, and then instead of watching it descend, there's a sudden "choomchoomchoomchoom" as I dump the rest of the 5 round mag in the general direction of clay, laughing hysterically the whole time. Pheasant hunting will be even more fun, because there's no magazine restriction in South Dakota when hunting pheasants. It's going to be like nighttime over Hanoi circa December 1972 as I try to make up for poor shotgun marksmanship via volume of fire. 30 round drums for hunting? Yes please.