Sioux Falls, SD – Recognizing the need to integrate online and print content with retail sales, GunUp is excited to announce the launch of GunUp Shop and GunUp the Magazine. GunUp the Magazine will combine the proven value of the GunUp Ad Network with print delivery, seamlessly integrating product, retail sales, and advertising into one platform. A free copy of GunUp the Magazine will be included with every gun GunUp ships to consumers, putting your product reviews and advertising directly in the hands of real customers.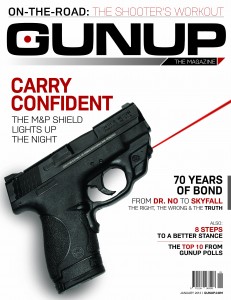 Driving the creativity and innovation at GunUp the Magazine is Managing Editor Shelley Sargent, one of the rising stars in the firearms publishing industry. "GunUp's vision for a comprehensive approach combining online, print, and retail in a single unified offering parallels my passion for writing, technology, and firearms. I am excited to be a part of GunUp and look forward to taking our magazine to the next level," says Shelley.
Advertising is available with discounts for current GunUp Advertising partners. Sample copies of the magazine will be available at SHOT Show. Contact VP of Sales & Marketing Caleb Giddings at [email protected] or 317-445-9332 for a media kit and to reserve your advertising placement.
About Shelley Sargent: Shelley comes to GunUp after successfully launching Western Shooting Journal, a monthly shooting sports publication reaching consumers in over 31 states. Shelley has a diverse background in the firearms industry with experience in retail, competition shooting, online publications and print publishing. Contact Shelley at [email protected] for product placement information and review requests.
About GunUp: Founded in 2010, GunUp helps gun enthusiasts buy, share, discuss, and research guns across all platforms. GunUp runs the largest gun blog network online reaching over 3 million unique visitors a month. In January 2013, GunUp launched GunUp Shop and GunUp the Magazine.