Yesterday with the arrival of the mail came my second paddle holster from Comp-Tac, this one for a J-frame revolver.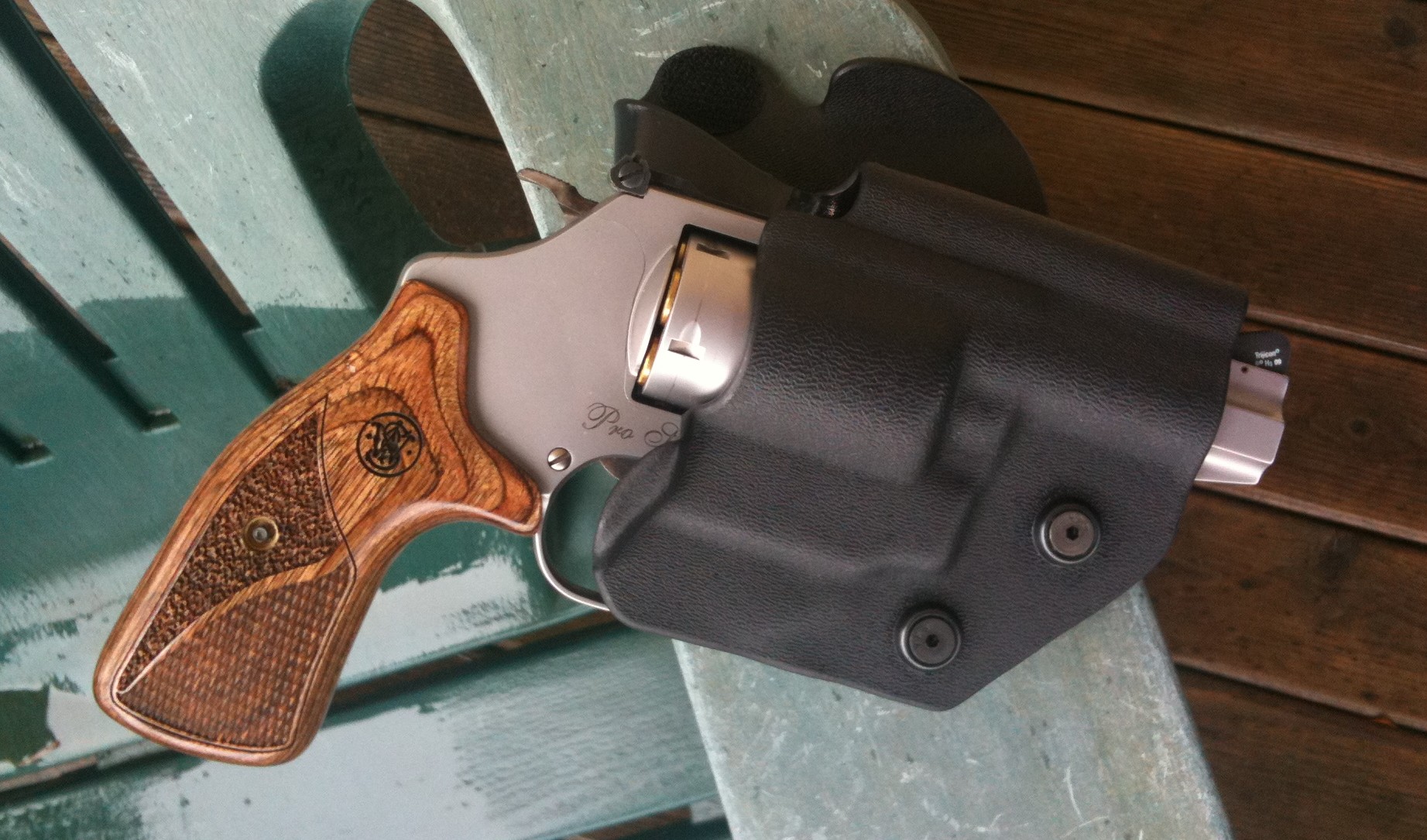 My fire engine red paddle holster is a straight drop, because I use it primarily for competition with the Ruger SR9c that I'm using in IDPA and the Quest for Master Class.  This holster is set up with a muzzle rearward cant, which makes it a better choice for concealed carry as the gun when carried at the 4 o'clock position will hold better to the natural angles of the body.
I've had a lot of holsters, and like most gun nuts out there am always interested in finding a really great holster.  I have to say, for outside the waistband holsters, I have been ridiculously impressed with Comp-Tac's quality.  There are some paddles on the market that really aren't suitable for concealed carry – they may stick the gun out too far, or they may not offer the right amount of speed, or they may just be junk.  The thing that's really impressed me about Comp-Tac's paddle holsters is that while they do hold the gun in tight to the body, they're still fast.  I don't get a fistful of shirt when I'm grabbing for gun, which means I can get very fast presentations from concealment.
As I've said, I like Comp-Tac so much that I buy all my gear from them.  Belts, holsters, you name it – plus they really do have GREAT customer service.  I've had more than a few emails back and forth with them, and they've always been great with me.  Is their paddle holster more expensive than a lot of other plastic holsters on the market?  Yes it is.  Is it worth the extra money? Absolutely.  I have thousands of reps through my SR9c paddle holster, I've done things to it that would destroy a cheapo-Israeli paddle, and it's still going along quite fine.  I'm sure that eventually I'll break it, but I suspect that won't happen until well after I've gotten my $57.50 worth of use out of it.
I actually prefer paddle holsters to holsters that you have to wind the belt through – Comp-Tac's paddle is designed so that it's just as stable as a belt loop holster, but the easy "on/off" is really nice.  It's quite pleasant to be able to just remove the gun and holster as a package from the belt – it lessens the opportunity for something bad to happen with the gun if the gun never leaves the rig.
Bottom line?  I have thoroughly consumed the Comp-Tac kool-aid, and I'm totally okay with that.  It's a quality product, great customer service, at a price that's worth it.  You won't be sad if you buy one.