Smith & Wesson has announced two pistols which will be unveiled at the 2010 NRA Annual Meetings, the SD9 and the SD40.
  Both pistols are brand new designs utilizing knowledge gained from the M&P pistol line to create a line of ergonomic and affordable defensive pistols.  Both guns are available in standard capacity and California capacity magazines.
Apparently, the trigger is an all new design, which Smith & Wesson is calling the SDT, or Self-Defense Trigger.  These are clearly being sold with an eye towards the concealed carry and self defense market – in fact, Smith & Wesson even says as much in the sales material!  "Specifically designed for home and personal defense", right there in the flyer.  I actually think that's kind of awesome when you think about it; for the longest time the concealed carry market was barely acknowledged by major manufacturers with just sort of a "wink and nod" policy towards self defense as a driver of firearms purchases.  In recent years though there has been a major attitude shift as major companies such as Ruger and Smith & Wesson are now directly appealing to the concealed carry market as a target demographic.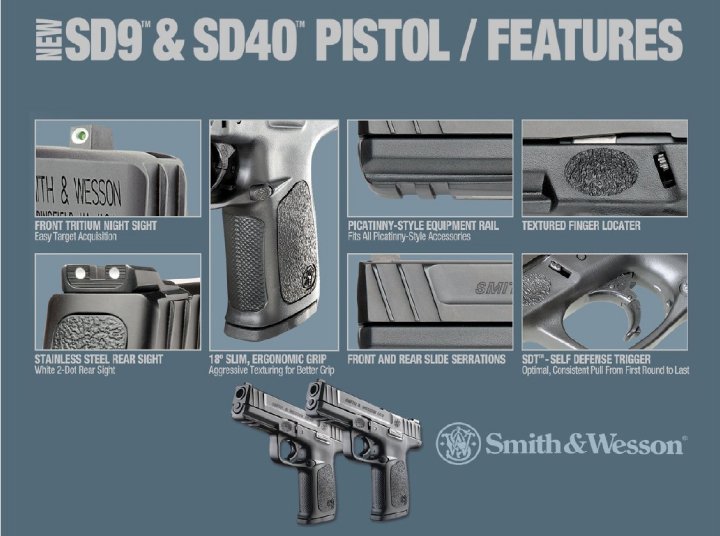 The SD9 and SD40 sort of look like an M&P and a Sigma got together and had a baby…personally I'm hoping this gun trends more towards the M&P lineage than the Sigma in terms of trigger pull and shootability.
What I really like is that it comes direct from the factory with a good tritium night sight which I believe is essential on a serious home defense or concealed carry pistol.  I'm looking forward to getting one of these in my hands and putting some rounds through it!