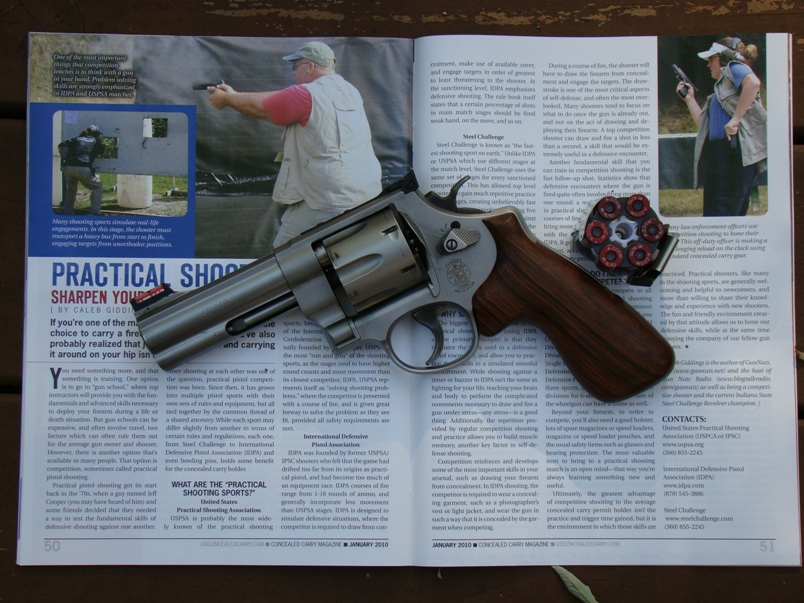 Smith & Wesson 625 in .45 ACP with Miculek grips, HiViz fiber optic front sight, Bowen Rough Country rear sight, California Competition Works moonclip holder, A-Zoom snap caps, copy of US Concealed Carry Magazine.
Smith and Wesson revolvers come from the factory with a perfectly adequate rear sight for competition shooting.  Unlike a lot of semi-automatic pistols which come with three-dot sights, the "worst" thing you'll see on most S&W revolver rear sights is a white "u-shape" outline on the rear sight; and many revolvers come with a plain black rear sight.  However, I found that the standard rear sight didn't allow quite enough light in around the large fiber optic front post I prefer for competition shooting.  In search of an alternate solution, I hit upon the Bowen Rough Country rear sight.  This is a fully adjustable rear sight for both windage and elevation, which is useful for competition shooters that may see point of impact shift with various loads.
The design of the sight is well, rugged.  The standard S&W revolver rear sight installs on the top strap with a single screw, the Bowen uses two screws to secure itself to the top strap.  Unlike the standard sight, the Bowen also has a full length serrated rear blade to help reduce glare, and a deeper and wider rear notch to help pick up the front sight quicker.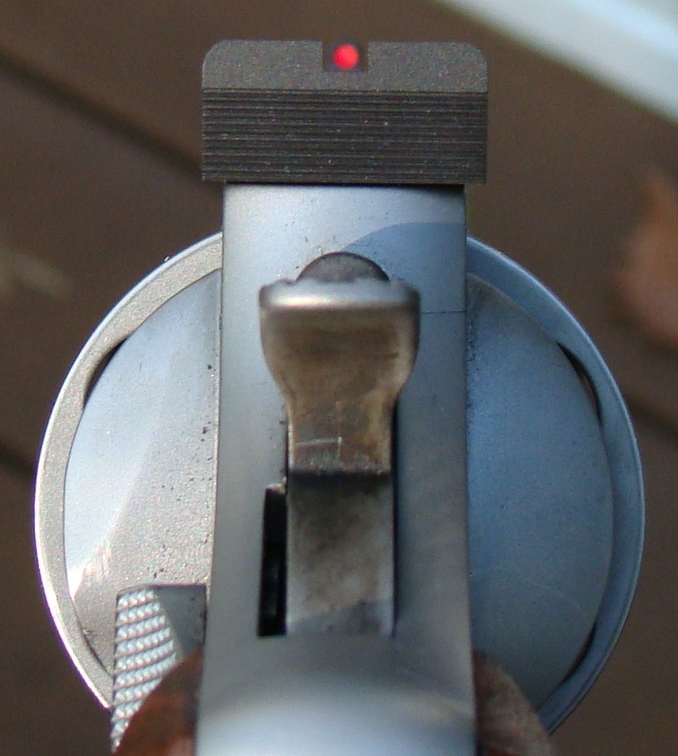 The rear sight quite nicely frames the red fiber optic, and allows a significant amount of light in around the front post.  The rounded edges are a nice touch – this sight won't snag on a concealing garment when I'm drawing during an IDPA match!
Admittedly though this is all cosmetic if the sight doesn't perform well at the range.  I took the 625 with the Bowen to the range to get it sighted in at 10 and 20 yards.  For sighting in, I like to use the NRA AP-1 target, more commonly known as the Bianchi Cup target.  The Bianchi target is nice because of the black 4 inch x-ring at the center provides a consistent point of aim reference; the 10 ring is 8 inches in diameter which is the same size as the -0 zone on an IDPA target.  I like to sight in my competition guns in the same conditions that they'll be used – so I don't shoot off a rest at a bullseye target; I shoot them standing, double action at targets that I'd actually shoot in competition.  I don't particularly care if the gun can shoot a 2 inch group at 25 yards, I care if it can hold the x-ring at 10 and 20 yards with an offhand hold.  My sighting in procedure is pretty simple – shoot a six shot group, make any sight adjustments necessary based on the group's location, lather, rinse, repeat until the gun is holding point of aim-point of impact at 20 yards.
I got lucky.  Out of the box with no adjustments whatsoever and using 230 grain FMJ ammo, the Bowen Rough Country Rear sight held in the x-ring, point of aim point of impact at 20 yards.  What that tells me is that if I buy another one of these for my 627 and 686 that I'm going to have to do a lot of adjustment to get it to shoot right where I want it.
After establishing point of impact, I did some 20 yard speed drills.  This is my current "fav" drill to practice.  I've noticed that I'm dropping a lot of points at 15-25 yards, so in order to get better I'm working on a drill where I draw from the holster and fire a single shot at 20 yards as fast as I can hit an "A".  So far it's working.  With the Bowen, I was able to dip down into the 1.80-1.99 area and hit 10's on the Bianchi Target at 20 yards.  So far I'm very impressed with this sight – I bought it from Brownells on a lark, and I'm glad I did.  I'll be taking it out to the range this weekend to work it out in an IDPA match – see if I can make those tight head box shots!